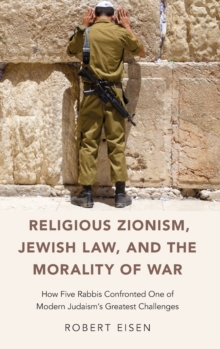 Religious Zionism, Jewish Law, and the Morality of War : How Five Rabbis Confronted One of Modern Judaism's Greatest Challenges
Hardback
Description
When the state of Israel was established in 1947, it was immediately thrust into war, and rabbis in the religious Zionist community were confronted with the formidable challenge of constructing a body of Jewish law to deal with this turn of events.
A body of law had to be "constructed" here because Jewish law had developed mostly during prior centuries when Jews had neither a state nor an army, and therefore it did not include much material on war.
Leading rabbis inthe religious Zionist camp responded to this challenge with remarkable ingenuity and creativity.
They used their interpretive skills to greatly expand the little material on war in Jewish law that already existed.
They also used those skills to draw out insights from other areas of Jewish law thatcould be applied to war.
The result was a substantial corpus of law on war where almost none had existed before. The work of these rabbis represents a fascinating chapter in the history of Jewish law and ethics, but it has attracted relatively little attention from academics.
This book is a pioneering attempt to make up for that shortfall.
It examines how five leading rabbis in the religious Zionist community in the twentieth century dealt with key moral issues in war.
Chapters are devoted to R. Abraham Isaac Kook, R. Isaac Halevi Herzog, and R. Eliezer Waldenberg, R. Sha'ul Yisraeli, and R. Shlomo Goren. The moral issues examined include the question of who is a legitimate authority for waging war, why Jews in a modern Jewish state can be drafted to fight on its behalf, and under what circumstances the killing of enemy civilians is permitted.
This study also examines how the positions of theserabbis on such issues compare to those of international law.
Information
Format: Hardback
Pages: 312 pages
Publisher: Oxford University Press Inc
Publication Date: 14/12/2017
Category: Judaism: theology
ISBN: 9780190687090
Free Home Delivery
on all orders
Pick up orders
from local bookshops