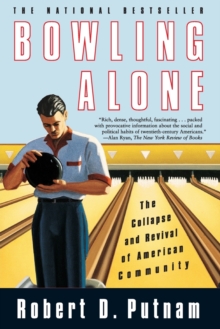 Bowling Alone : The Collapse and Revival of American Community
Paperback
Description
BOWLING ALONE warns Americans that their stock of "social capital", the very fabric of their connections with each other, has been accelerating down.
Putnam describes the resulting impoverishment of their lives and communities.
Drawing on evidence that includes nearly half a million interviews conducted over a quarter of a century in America, Putnam shows how changes in work, family structure, age, suburban life, television, computers, women's roles and other factors are isolating Americans from each other in a trend whose reflection can clearly be seen in British society.
We sign 30 percent fewer petitions than we did ten years ago.
Membership in organisations- from the Boy Scouts to political parties and the Church is falling.
Ties with friends and relatives are fraying: we're 35 percent less likely to visit our neighbours or have dinner with our families than we were thirty years ago.
We watch sport alone instead of with our friends. A century ago, American citizens' means of connecting were at a low point after decades of urbanisation, industrialisation and immigration uprooted them from families and friends. That generation demonstrated a capacity for renewal by creating the organisations that pulled Americans together.
Putnam shows how we can learn from them and reinvent common enterprises that will make us secure, productive, happy and hopeful.
Information
Format: Paperback
Pages: 544 pages, illustrations
Publisher: Simon & Schuster Ltd
Publication Date: 07/08/2001
Category: Cultural studies
ISBN: 9780743203043
Free Home Delivery
on all orders
Pick up orders
from local bookshops
Reviews
Showing 1 - 5 of 6 reviews.
Previous | Next
Review by heidilove
16/06/2015
horrible. while putnam writes well, he is hoodwinked into thinking that the era where everyone rushed to join up for whatever everyone else was doing is somehow preferable to the era of individualism which followed it. he paints those after the sixties as slackers, sitting mind-numbingly in front of the television, consuming whatever they are told to. in actuality, it is the members of the fifties themselves who were so paranoid about not fitting in that they created consumptive lifestyles to checklist their inclusion. those in the sixties were too busy tuning in, turning on and dropping out to be part of the slacker mindset -- most didn't have eletricity let alone television.
Review by joeythelemur
16/06/2015
Wow is all I can say: what a landmark book. It's difficult to review due to the sheer scope, but Putnam does a masterful job of making sense of huge reams of data. There is a compelling case that our social capital in America has been slowly eroding for decades, even though many supposed indicators of social engagement have not reflected that. An incredible work and one worth revisiting someday.
Review by piefuchs
16/06/2015
I classify Bowling Alone, which discusses that decline of "social capital" in the US, as part of my pregnancy reading. I have been wanting to read it for quite some time, but the thoughts of the isolation of not being at work for a longish time, and the idea of the different life my child would lead growing up near Boston, rather than in small town NS, inspired me to final bend the bindings. What I discovered was a very well written and exceptionally well researched book. Bowling Alone is a rare "artsy" book in which the author start with a premise and provides data to support or refute his own premise. While none of the ideas he come up with are at all new, the manner in which he addresses the growing problem of lack of trust between citizens through prioritizes his ideas based on data certainly is.While in general, he presents the substantial lowering of attendance at clubs as an inherently bad thing, along with the notion that the separation of people in cities relative to small towns is a bad thing, I appreciated the chapter he added to examine whether many of the clubs weren't a superficial search for sameness in the first place. When you lived in both an intolerant cohesive small town and a tolerant larger city, you start to realize that having everybody know your name (and your business) can be a burden as much as a security blanket.The one issue he did not examine that I wish he had covered was how the change in corporate values has crossed over into the rest of people's lives - i.e. decades long loyalty to the firm means nothing come layoff time. Additionally, as is usually the case in long books that do a great job in defining issues - his chapter on solutions is very weak and devoid of supporting data.Worth reading, does make you think.
Review by gmmoney
16/06/2015
I loved this book! A fascinating analysis of the decline of civic and social participation in American society. Every community organizer should read this. Putnam's prose is very accessible and his analysis makes for an interesting read.Will be interested in exploring Putnam's websites to see what he thinks of the developments with the internet and the impact the Obama campaign have had over the last ten years.
Review by bkinetic
16/06/2015
The data Putnam collected and analyzed represents a major achievement. Yet, after doing all that hard work he failed to go very far down some paths his data showed him. For example, more Americans are part of the work force than in previous decades, when many two-adult families had only one adult in the work force, leaving the other free to participate in community and neighborhood activities. The phenomena of overwork and overspending, explored brilliantly by Juliet Schor, is tied to the decline in social capital, but in this book is not given its due.