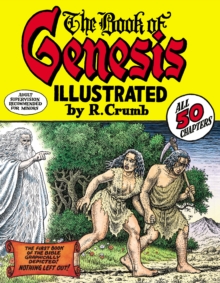 Robert Crumb's Book of Genesis
Hardback
Description
Envisioning the first book of the Bible like no one before him, R.
Crumb, the legendary illustrator, retells the story of Genesis in a profoundly honest and deeply moving way.
Now, readers of every persuasion can gain astonishing new insights from these stories.
Crumb's Book of Genesis reintroduces us to the bountiful tree-lined garden of Adam and Eve, the massive ark of Noah with beasts of every kind, the cities of Sodom and Gomorrah destroyed by brimstone and fire, and the Egypt of the Pharaoh.
Using clues from the text and peeling away the theological and scholarly interpretations that have often obscured the Bible's most dramatic stories, Crumb fleshes out a parade of biblical originals: from the serpent in Eden, the humanoid reptile appearing like an alien out of a science fiction movie, to Jacob, a 'kind of depressed guy who doesn't strike you as physically courageous', and his bother, Esau, 'a rough and kick-ass guy', to God himself, 'a standard Charlton Heston-like figure with long white hair and a flowing beard'. Crumb's Book of Genesis, the culmination of five years of painstaking work, is a tapestry of masterly detail and storytelling that celebrates the astonishing diversity of one of our greatest artistic geniuses.
Information
Format: Hardback
Pages: 224 pages
Publisher: Random House Children's Publishers UK
Publication Date: 29/10/2009
Category: Comics and Graphic Novels
ISBN: 9780224078092
Free Home Delivery
on all orders
Pick up orders
from local bookshops
Reviews
Showing 1 - 1 of 1 reviews.
Review by Sylak
16/06/2015
I honestly never expected this body of work to issue forth from someone who is perceived to be as decadent and perverted as Robert Crumb is. Don't get me wrong I like those things about him! But, to have dedicated such a significant portion of his remaining years to a project such as this; to have brought the book of Genesis within such easy reach of everyone is an astonishing thing for one man to have done.Part of me, struggling to get a grip on what was going on, recalled comparisons between Judith Krantz's character of Julien Mistral who produced a considerable body of religiously themed paintings as penance for his life's misdeeds. Could this be what was going on here I wondered?Somehow I couldn't quite get my head around the fact that Crumb had not attempted to treat the subject matter with his usual cynicism, or at the very least to have added a subversive twist to the whole endeavour. After all, the man has been walking on the wild side all of his life and at the time, approaching his seventies, one could expect him to rather 'be hung for a sheep as a lamb' and attack the establishment of the church with all his bile while raising a glass and casting a wry grin in the direction of the alter. But nothing could be further from the truth. This is an honest and respectful piece of work which, although I can not see it being used as a teaching tool in an evangelical situation because of the shear power of the pictures and also, lets face it, because the artist is Robert Crumb; it would otherwise lend itself to scholars wishing to visualise better the book of Genesis for themselves and reflect on some of the messages held within.Of course, I don't personally trust R. Crumbs motives entirely. Part of me would like to believe that the 'Old Dog' does have a wicked grin on that sweet innocent face of his, and exposing the fact that the Bible contains at least as much sex, violence, debauchery and horror as anything he himself has penned over the years must be a reply to some of his harder critics.Never the less, whatever the motives pure or not so, the fact remains that this is a wonderful addition to the true connoisseur's library.