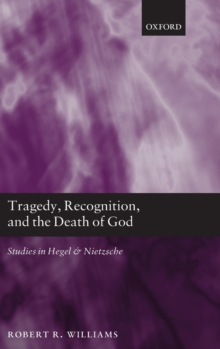 Tragedy, Recognition, and the Death of God : Studies in Hegel and Nietzsche
Hardback
Description
Hegel and Nietzsche are two of the most important figures in philosophy and religion.
Robert R. Williams challenges the view that they are mutually exclusive. He identifies four areas of convergence. First, Hegel and Nietzsche express and define modern interest in tragedy as a philosophical topic.
Each seeks to correct the traditional philosophical and theological suppression of a tragic view of existence.
This suppression of the tragic is required by the moralvision of the world, both in the tradition and in Kant's practical philosophy and its postulates.
For both Hegel and Nietzsche, the moral vision of the world is a projection of spurious, life-negating values that Nietzsche calls the ascetic ideal, and that Hegel identifies as the spurious infinite.
Themoral God is the enforcer of morality. Second, while acknowledging a tragic dimension of existence, Hegel and Nietzsche nevertheless affirm that existence is good in spite of suffering.
Both affirm a vision of human freedom as open to otherness and requiring recognition and community.
Struggle and contestation have affirmative significance for both.
Third, while the moral God is dead, this does not put an end to the God-question.
Theology must incorporate the death of God as its own theme.
Theunion of God and death expressing divine love is for Hegel the basic speculative intuition.
This implies a dipolar, panentheistic concept of a tragic, suffering God, who risks, loves, and reconciles.
Fourth, Williams argues that both Hegel and Nietzsche pursue theodicy, not as a justification of themoral God, but rather as a question of the meaningfulness and goodness of existence despite nihilism and despite tragic conflict and suffering.
The inseparability of divine love and anguish means that reconciliation is no conflict-free harmony, but includes a paradoxical tragic dissonance: reconciliation is a disquieted bliss in disaster.
Information
Format: Hardback
Pages: 424 pages
Publisher: Oxford University Press
Publication Date: 06/09/2012
Category: Philosophy
ISBN: 9780199656059
Free Home Delivery
on all orders
Pick up orders
from local bookshops