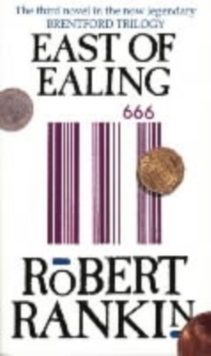 Description
'Ahead, where once had been only bombsite land, the Lateinos and Romiith building rose above Brentford. Within its cruel and jagged shadow, magnolias wilted in their window boxes and synthetic Gold Top became doorstep cheese...'Something sinister is happening east of Ealing. The prophecies of The Book of Revelation are being fulfilled. Lateinos & Romiith, a vast financial network, is changing all the rules with a plan to bar-code every living punter and dispense with old-fashioned money. A diabolical scheme, which would not only end civilisation as we know it, but seriously interfere with drinking habits at the Flying Swan. Can Armageddon, Apocalypse and other inconveniences of the modern age be stopped by the humble likes of Pooley and Omally, even with the help of Professor Slocombe and the time-warped Sherlock Holmes of Baker Street...?
Information
Format: Paperback
Pages: 288 pages
Publisher: Transworld Publishers Ltd
Publication Date: 01/12/1992
Category: Science fiction
ISBN: 9780552138437
Free Home Delivery
on all orders
Pick up orders
from local bookshops
Reviews
Showing 1 - 2 of 2 reviews.
Review by defrog
16/06/2015
Rankin is about one of my favorite writers at the moment – he's sort of an occult version of Terry Pratchett or Douglas Adams. As far as I know, you can't get his stuff in the US, so some of you will have to trust me on this. This is the third of the Brentford Trilogy (which is now seven books long). Not high lit by any means, but always good fun.
Review by isabelx
16/06/2015
'And the lights upon the allotment,' said Soap, 'what would you take those to be?' 'The work of the council,' said Omally firmly, 'another plot to confound honest golfers.' Soap burst into a paroxysm of laughter. Tears rolled down his pale cheeks and he clutched at his stomach. 'Come now,' said Pooley, 'it is no laughing matter, these lads have it in for us.' 'Have it in for you?' gasped Soap between convulsions. 'You witness a test run of laser-operated gravitational landing beams, the product of a technology beyond comprehension, and you put it down to the work of Brentford Council?''If you will pardon me,' said Pooley, somewhat offended, 'If it is the product of a technology beyond comprehension I hardly feel that I can be blamed for finding it so.''Quite', said Omalley.1) The Antipope 2) The Brentford Triangle 3) East of Ealing4) The Sprouts of Wrath 5) The Brentford Chainstore MassacreI decided that I should try to fit in some re-reads of old favourites over the next few months, and I started with The Brentford Trilogy since I've got two linked books on my TBR shelf. I liked book 1 of this series, but it was book 2 that got me hooked. On the surface Brentford may appear to be a normal West London suburb, but it's actually a centre of weirdness and a magnet for the uncanny. So it's lucky that the mysterious Professor Slocombe, and local layabouts Pooley and Omalley are ready to tackle evil whenever it rears its head, with the help of the inventive genius Norman Hartnel, hollow-earther Soap Distant and the other regulars of The Flying Swan pub.