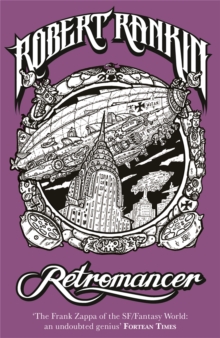 Description
There is big and evil magic abroad upon the face of the Earth.
History has been changed. The Germans have won WWII. America is a nuclear wasteland. And worst of all, the breakfast menu at The Wife's Legs Cafe in Brentford is serving Bratwurst rather than the proper big boys' British banger.
Something is Not Right. And when the world's all wrong and it needs setting right, who're you gonna call?Hugo Rune, that's who.
A man who offers the world his genius, and asks only, in return, that the world cover his expenses.And so, with the aid of his faithful acolyte and companion Rizla, the guru's guru, also known as the hokus bloke, the Lad Himself and the Retromancer*, sets out to rewrite history the way it should be.
Together they return to war-torn London, to solve the twelve cosmic conundra based on Hugo Rune's personal tarot deck, each one leading them closer to a final terrifying confrontation.They must match their wits against beautiful spies, advanced alien technology, killer robots and death rays, do battle with an ancient god, and come face to face once more with Hugo Rune's arch-enemy, the sinister Count Otto Black, all the while finding time to drink ale, talk the toot and dine out in some of London's swankiest eateries.
Without ever paying the bill.
Information
Format: Paperback
Pages: 368 pages
Publisher: Orion Publishing Co
Publication Date: 08/07/2010
Category: Fantasy
ISBN: 9780575085008
Free Home Delivery
on all orders
Pick up orders
from local bookshops
Reviews
Showing 1 - 2 of 2 reviews.
Review by isabelx
16/06/2015
'You have a plan, do you not?' I said.'Naturally. Twelve cases and we win the war.''Twelve cases, I see.' And I did. Well, sort of.It is always twelve cases, as I have told you before. It is always to do with time and it always involves the solving of twelve Cosmic Conundra. It is what I do and what I am.''And I will be proud to aid you' I said.The teenage Jim Pooley is surprised when his aunt serves him bratwurst for breakfast one morning rather than bangers. When he ventures out into the streets of Brentford, he finds that apparently Germany won the war and he seems to be the only person in Brentford who knows that history has been changed, and wonders if this could be because Hugo Rune had already interfered with his time-line, so that their year-long adventures in Brighton (as chronicled in "The Brightonomicon") appeared to have taken a single day. After a run-in with the German authorities, he finds himselfwaking up in World War II London, and working with Rune to re-set history and ensure that the Allies win the war. This involves investigating twelve cases under the aegis of the Ministry of Serendipity, whose secret headquarters are underneath Mornington Crescent tube station.A great improvement over Necrophenia, which I read a couple of months ago.
Review by Calypso42
16/06/2015
Another book centered around Hugo Rune "the most amazing man who ever lived" - a character that Rankin evidently enjoys writing about, and he does love this character, so his book is definitely enjoyable to read. The story opens in 1967, but in a 1967 where the Germans won WWII, so the characters go back in time to 1944 to correct this error. This story follows The Brightonomicon in time, but you do not need to have read that book to enjoy this one, it also follows the same general pattern of The Brightonomicon in that there are a dozen mysteries that are solved as the book progresses. Another fun read from Robert Rankin.