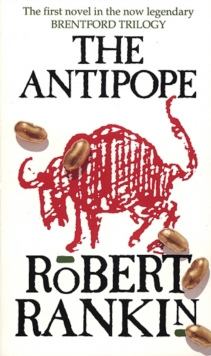 Description
This story uncovers suburbia's darkest secrets - mostly in The Flying Swan, a cosmic Rovers Return where Neville the barman and Archroy, owner of five magic beans, do battle with beasts of the occult and in particular the rather unpleasant Pope Alexander VI, the last of the Borgias.
Information
Format: Paperback
Pages: 288 pages
Publisher: Transworld Publishers Ltd
Publication Date: 01/02/1992
Category: Science fiction
ISBN: 9780552138413
Free Home Delivery
on all orders
Pick up orders
from local bookshops
Reviews
Showing 1 - 5 of 7 reviews.
Previous | Next
Review by defrog
16/06/2015
Rankin is about one of my favorite writers at the moment – he's sort of an occult version of Terry Pratchett or Douglas Adams. As far as I know, you can't get his stuff in the US, so some of you will have to trust me on this. This is his first book, and the first of the Brentford Trilogy (which is now seven books long). Not high lit by any means, but always good fun.
Review by andyx
16/06/2015
Highly amusing - and with some genuinely scary moments too. Rankin's later work has (IMHO) grown a little lazy, too reliant on jokes and author-to-reader asides, but the original four-book 'Brentford Trilogy' (did Rankin or Adams do that one first?) is excellent.
Review by akfarrar
16/06/2015
Came across this looking for an alternative to El Prat - and not disappointed.A bit of a mix between fantasy and horror - twinges of King in there.Not a belly laugh but certainly amusing - especially when you get to my age and start identifying with some of the more reprobate characters!Be warned though: Pre-decimalisation money (and I loved it).
Review by TadAD
16/06/2015
I had very high hopes for this. I had read his <i>The Hollow Chocolate Easter Bunnies of the Apocalypse</i> and found it amusing, and been told The Brentford Trilogy was his magnum opus. In my opinion: no.I found it very slow to get started—two-thirds of the book is devoted just to setting up the characters and the real story of long-deceased Borgia Pope Alexander VI rising from the dead as the semi-ultimate evil is jammed into the final 100 pages. Most of the scenes in the book...e.g., Cowboy Night at the bar with one character in a PVC cowboy suit...struck me as random, pointless events that did nothing for the plot, little to illuminate the characters, and which were glued together awkwardly with little regard for story flow.About the only thing I enjoyed were the two main characters, Pooley and Omally. I can see that they would be hysterically funny people to know. However, they find themselves in a story bereft of plot and it makes it hard for them to shine.I've heard Rankin called another Pratchett...not even close if this is what he writes. Does it get better in the now-7-book "Trilogy"? I don't think I'll find out.
Review by TheDivineOomba
16/06/2015
I enjoyed reading this book, but I think, and an American, I missed the essence of what makes this book good. Its a bit like watching British Comedies on PBS and thinking "I just don't get it" but yet, you keep watching it in hopes that whatever It is, it will come. Outside of that, I don't know what else to say.