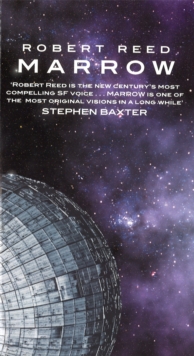 Description
The Ship has travelled the universe for longer than any of the near-immortal crew can recall, its true purpose and origins unknown.
It is larger than many planets, housing thousands of alien races and just as many secrets.
Now one of those secrets has been discovered: at the centre of the Ship is ...a planet.
Marrow. But when a team of the Ship's best and brightest are sent down to investigate, will they return with the origins of the Ship - or will they bring doom to everyone on board? 'MARROW is an extraordinary and extraordinarily intelligent novel stuffed with wonder and wit ...should elevate him to the ranks of the very best writers of the genre' INTERZONE For more information on this and other Orbit books, visit the website at www.orbitbooks.co.uk
Information
Format: Paperback
Pages: 512 pages
Publisher: Little, Brown Book Group
Publication Date: 05/07/2001
Category: Science fiction
ISBN: 9781841490786
Free Home Delivery
on all orders
Pick up orders
from local bookshops
Reviews
Showing 1 - 2 of 2 reviews.
Review by laphroaig
16/06/2015
Set in the far future, Marrow's events take place on a planet-sized starship discovered and then captained by super-evolved humans whom technology has made near immortal. This setting allows Reed some unusual plot devices; whereas most books have to unwind their stories within a few years, Marrow progresses over the course of millenia.The primary driver behind Marrow is its imagination. Its base assumption of immortality and hyper-advanced technology is used to maximum effect to further complicate an endlessly twisting plot.Marrow is the ultimate in space opera: strange, imaginative and fascinating. It is well written, engaging and with some strong characters (in particular the hatchet-faced, ruthless Miocene) and a denoument that is as grand as its setting. A page-turner.
Review by RobertDay
16/06/2015
They don't come bigger and (initially) dumber than this; an abandoned starship the size of a Jovian planet is taken over by near-immortal humans who take it on a Grand Tour of the Galaxy, not so much as a voyage of discovery but more like an extended cruise, picking up and setting down alien races as passengers along the way. Some of them stay on if they find a niche in the workings of the Ship. And meanwhile, there are office politics amongst the crew on a grand scale, which results in a group of the crew being marooned on the Ship's core (the 'Marrow' of the title) for about five thousand years, during which time they go from mere survival to a functioning high-tech civilization.I had some misgivings about this novel as I got into it: Reed seemed to have an imperfect grasp of sf-nal terminology, which suggested that this immense vessel was propelled by rockets; an odd thought, but ultimately one which doesn't entirely matter as the novel isn't about the Ship but its inhabitants. Those inhabitants' extended lifespans meant that it took a while for me to pick out any characterisation; the middle part of the book, where the main characters are marooned at the core, seemed to drag on for quite a while; the writing was reminiscent of Robert Forward if he had ever developed anything beyond a cloth ear for language, and I wondered where the story was going, if anywhere; but the novel eventually moved on, tectonically (literally) and it began to pick up for me. The novel ends in revolution and a threat from the depths of both time and the core. Oh, and we eventually get some passages written from the viewpoint of the Ship itself, though these are in no sense revelatory. An ambitiious novel that ultimately seems to work.