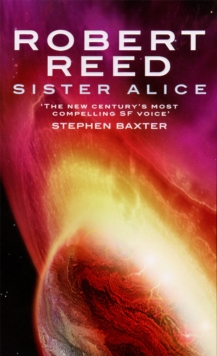 Description
Some 10 million years in the future, in a galaxy heavily populated by humans and other advanced species, a thousand trustworthy humans and their cloned offspring have been granted an incredible power that they may preserve a peace that has endured for eons.
They can build worlds wherever they wish and can terraform any wasteland.
But the arrival of a woman as old as the great peace itself brings uncertainty and fear.
For she brings with her a warning: the tale of an ancient crime that threatens to destroy the peace that has been so carefully crafted.A far-future epic of god-like humans and their colossal blunders, SISTER ALICE is a novel of incredible imagination from the author of the acclaimed MARROW.Find out more about this title and others at www.orbitbooks.co.uk
Information
Format: Paperback
Pages: 416 pages
Publisher: Little, Brown Book Group
Publication Date: 01/05/2003
Category: Science fiction
ISBN: 9781841491257
Free Home Delivery
on all orders
Pick up orders
from local bookshops
Reviews
Showing 1 - 1 of 1 reviews.
Review by RobertDay
16/06/2015
WARNING! Some familiarity with advanced particle physics required (well, at least a passing knowledge of the difference between baryonic matter and dark matter). Not for anyone who thinks that science fiction is all 'Star Wars' stuff.Brian Aldiss' description of a certain kind of science fiction as 'wide-screen baroque' could have been invented for this book. Godlike, near-immortal super-potent humans rule the galaxy and play mud pies with universes. Inevitably, things go wrong when even gods overstep their powers and trigger the explosion of the galactic core. The person responsible - the Alice of the title - flees to her family home to await judgement but also to plot with her baby brother how to evade the consequences of her actions. (By 'baby brother' we mean someone probably only 500 years old or so.)Add to this intrigues between the thousand Families who make up the ruling caste of super-humans, and we have another large-scale novel from Robert Reed.Although I sometimes have problems with novels where the protagonists start engaging in metaphysical finger-painting and intellectually grappling with the space-time continuum (when some novelists start doing this sort of thing, they tend to overlook minor issues like 'plot' and 'characterization'), in this case I was pleased that Reed kept us quite well-focussed. Characterization in particular was quite well-done and certainly better than some of his earlier novels; and although some of the plot became quite abstract, by concentrating on individual protagonists, the novel didn't lose its way.