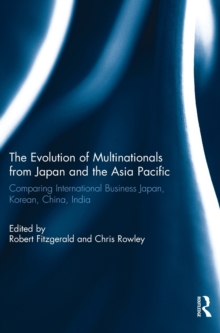 The Evolution of Multinationals from Japan and the Asia Pacific : Comparing International Business Japan, Korean, China, India
Hardback
Description
The rise of the Japanese multinational company (JMNC) marked, from the 1980s onwards, an historic change in the structure and in the dynamics of the international economy.
For the first time, businesses from a non-Western nation established a competitive global presence, and they did so by bringing their advanced products and management systems to the developed economies of Europe and North America.
In the last 30 years, our interpretations of JMNCs have undergone a series of revisions.
Korean firms followed JMNCs in the 1990s and the Chinese likewise in the 2000s.
A seeming decline in JMNC competitiveness and developments in the structure of the international economy challenged a business model of parental company direction, control and capabilities.
Both trends asked questions about how Japanese subsidiaries should operate in global production chains increasingly reliant on contracting out and off-shoring, and how JMNCs might engage more in strategic cooperation and empower subsidiary decision-making.
The contributors to this volume consider a wide range of relevant issues: they demonstrate the long-term evolution of JMNCs; they compare the experience of JMNCs with firms from the other two major Asia Pacific economies, Korea and China; they evaluate the applicability of established foreign direct investment (FDI) theory to MNCs from Japan and the Asia Pacific; and they reflect on the internal organization of JMNCs at the global, national and subnational level.
This book was originally published as a special issue of Asia Pacific Business Review.
Information
Format: Hardback
Pages: 130 pages
Publisher: Taylor & Francis Ltd
Publication Date: 21/03/2017
Category: International business
ISBN: 9781138289864
Free Home Delivery
on all orders
Pick up orders
from local bookshops