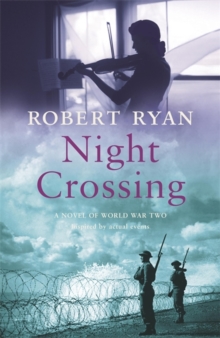 Description
In 1938, Ulrike Walter, a beautiful young German musician, is engaged to be married to Erich Hinkel, a member of the Hitler Youth.
But when she meets Inspector Cameron Ross, a Scotland Yard policeman, whose father is a colonel in British Intelligence, her life will be changed for ever.
When war is declared, Ulrike flees Germany for the safety of England but is instead cruelly imprisoned as an enemy alien.
Her only hope of rescue is Cameron, who, despite his better judgement, is falling in love with her.
Then Erich is captured by the British and incarcerated in a prisoner of war camp in England.
He faces interrogation by Cameron Ross, the one man who stands between him and Ulrike, the woman who means more to Erich than life itself...
Information
Format: Paperback
Pages: 352 pages
Publisher: Headline Publishing Group
Publication Date: 01/11/2004
ISBN: 9780755301812
Free Home Delivery
on all orders
Pick up orders
from local bookshops
Reviews
Showing 1 - 1 of 1 reviews.
Review by vernefan
16/06/2015
Robert Ryan's historical novel Night Crossing is an intriguing blend of literary ingredients consisting of murder, World War II history, action adventure, family drama, and romance. This marvelous mix of stirring together everything a reader could want in a story, offers an engaging and interesting war-torn tale of events that are shocking, frightening and sad. Yet, Ryan pulls on the readers heart strings and serves up a healthy dose of love, hope, and determination against odds that seem unlikely to overcome. The blurb on the cover misleadingly promotes this book as more of a historical romance but I found that this is primarily an espionage filled spy novel, toting a love-interest in the background. Although this is a German holocaust story, the author showed great talent in describing horrific events by just touching on them lightly in the background so that the reader is aware what is happening and what abominable acts occurred, without being so graphically described that you get put off not wanting to read it. This I found appealing because a lot of WWII holocaust stories are very difficult to read, often so disturbing, not allowing people to fully learn and grasp what happened during those years of struggle and bloodshed. I was enthralled with the sections of adventure and terror beneath the seas in the German U-boats and learned a lot of what it was like for those brave men living in claustrophobic, damp and odorous conditions that often turned out to be their tombs.Our entwined characters are a Scotland Yard British spy named Inspector Cameron Ross who starts out investigating a murder in Berlin; a young and beautiful German violinist named Ulrike Walter who inflicts tragedy upon herself in order to remove herself from her father's overbearing protection. Erich Hinkel; her Hitler Youth soldier-boy fiance who early in the story departs for the war- cause as a U-Boat code cipher; and Alex Schuller a Berlin street cop who has high aspirations of climbing the ranks within Hitler's reign. The novel switchbacks from character to character as each of them experience the horrors of war in their own way, each finding hardship and pain, yet each having the perseverance to survive brought on by either the love of one woman, or by the lust for power. With mysterious coded messages traveling from Berlin to London, exciting adventures in an underwater submarine, first hand experiences of the London Blitz, a love-triangle between two men and one woman scattered across the Atlantic, and a background entity of classical musicians of the time, I cant help but say that this is a marvelous page turner that not only helped me get a clearer picture of World War II Europe and what these hardened people endured, but gave me a few nights of a truly enjoyable yarn well spun. This was the first book by this author I have read, leaving me to eagerly pick up his others.