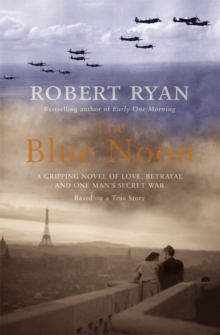 Description
Paris, 1945. A manhunt is raging across the liberated city. Airey Neave, head of Room 900, the ultra-secret M19 department, is desperate to track down Harry Cole.
Harry is a rogue. He's an East End charmer and as sharp as a switchblade.
But traitor? He did break a few rules and hearts along the way...but that was before he met French nurse Odile.
Together they are the best clandestine operatives in northern France, heroes of the Resistance, rounding up downed pilots and ferrying them to safety.
The beautiful Odile nurtures Harry's talents for the greater good.
His mistake is to try and make a little money on the side. And when he gets in the way of M19, Airey Neave has a very good reason to want him silenced...
Information
Format: Paperback
Pages: 352 pages
Publisher: Headline Publishing Group
Publication Date: 01/10/2003
Category: Thriller / suspense
ISBN: 9780755301782
Free Home Delivery
on all orders
Pick up orders
from local bookshops
Reviews
Showing 1 - 3 of 3 reviews.
Review by DeltaQueen50
16/06/2015
Harry Cole is a chancer, whether he is fooling his military supervisor or running a con, Harry always is out for number one. Unfortunately sooner or later he always gets caught. His pictures of the Colonel in some very compromising positions ensures an honourable discharge, but still he manages to get himself in trouble with the wrong people, so back to the army he goes. This time he gets caught in Northern France just as World War II is breaking out. Harry manages to disappear from the fighting, turns up under another name as an orderly, and eventually finds himself running an escape route for downed allied pilots. Falling in love with French nurse, Odile is perhaps the making of Harry. He now choses to do the right thing.Unfortunately clandestine operations can change in a heartbeat and Harry becomes surplus to needs and is silenced in a way that makes him appear to have turned traitor. Harry spends the rest of the war working for whichever side will take him, all the while planning his revenge and looking for his chance to reach Odile and tell her the truth.Loosely based actual events this is an exciting read and goes to show that truth can be stranger than fiction. The world of espionage is murky and today's enemies often become tomorrow's friends and vice versa. I found The Blue Noon to be a highly readable story.
Review by AdonisGuilfoyle
16/06/2015
It took far too long to read this book, for what it is, and that's because Robert Ryan has managed to suck all of the drama and personality out of the real story of English spy Harry Cole. 'The Blue Noon' is plain dull. None of the characters is convincing or sympathetic, and all Ryan had to do was pad out existing biographies; the writing is stilted with exposition (school children might need to be told what a 'DP' is, but the rest of us are quite capable of researching any unfamiliar terms for ourselves), the dialogue uniform (it's impossible to tell different nationalities apart just from their speech) and unnecessarily crude; and there is little or no sense of the time in which this story is set. The whole novel is just a vague retelling of the lives of certain brave men and women in wartime France, peppered with anecdotes from non-fiction books plundered by the author for his research. Harry Cole's life and times is certainly fascinating, but I refer to the best part of Ryan's book (the author's note at the end) as an alternative recommendation: read either 'Turncoat' by Brendan M. Murphy (out of print) or 'In Trust and Treason' by Gordon Young.
Review by PilgrimJess
27/08/2015
This is the third Ryan book I've read and in many respects it is the most complex and that is purely down to the main character Harry Cole,a London chancer,whom at one time ran one of the most successful lines of escape for shot down Allied airmen out of occupied France during WWII. The main character is based on a real person but many of his files are still sealed with secrecy by the British Government which allows a certain leeway with the facts.Therein lies some of the problems with this book for me because despite on one hand wanting to like him and wanting to care what happened to him and those around him I never really could. If only half of what is written is true he seems such an extraordinary character who evades several attempts to kill him and in truth sounds like an imaginary character rather than a real one.The book is well written,runs at a good pace whilst giving a decent impression to life within occupied France (although I recently finished The Forger by Paul Watkins and felt that he did a better job there)and the ending was ambiguous enough to make your own conclusion but on the downside I did find the novel overly long.Whatever the truth of the Harry Cole story this book did give me cause for thought.At one point two of the more peripheral characters were discussing the merits of helping Allied flyers to escape or more accurately whether their survival and ability to return to fight again were worth more than the lives of the numerous civilians,some totally innocent, who were either killed or interned by the Germans in retribution for these very escapes? Not something that I'd given much thought to before.