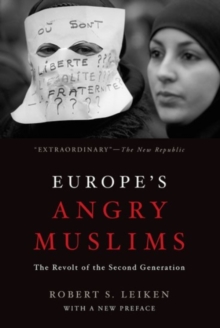 Europe's Angry Muslims : The Revolt of The Second Generation
Paperback / softback
Description
Bombings in London, riots in Paris, terrorists in Germany, fury over mosques, veils and cartoons-such headlines underscore the tensions between Muslims and their European hosts.
Did too much immigration, or too little integration, produce Muslim second-generation anger?
Is that rage imported or spawned inside Europe itself?
What do the conflicts between Muslims and their European hosts portend for an America encountering its own angry Muslims? Europe's Angry Muslims traces the routes, expectations and destinies of immigrant parents and the plight of their children, transporting both the general reader and specialist from immigrants' ancestral villages to their strange new-fangled enclaves in Europe.
It guides readers through Islamic nomenclature, chronicles the motive force of the Islamist narrative, offers them lively portraits of jihadists (a convict, a convert, and a community organizer) takes them inside radicalmosques and into the minds of suicide bombers.
The author interviews former radicals and security agents, examines court records and the sermons of radical imams and draws on a lifetime of personal experience with militant movements to present an account of the explosive fusion of Muslim immigration, Islamistgrievance and second-generation alienation. Robert Leiken shines an unsentimental and yet compassionate light on Islam's growing presence in the West, combining in-depth reporting with cutting-edge and far-ranging scholarship in an engaging narrative that is both moving and mordant.
Leiken's nuanced and authoritative analysis-historical, sociological, theological and anthropological-warns that "conflating rioters and Islamists, folk and fundamentalist Muslims, pietists and jihadis, immigrants and their children is the method ofstrategic incoherence-'in the night all cats are black.'"
Information
Format: Paperback / softback
Pages: 400 pages, 10 b/w halftones
Publisher: Oxford University Press Inc
Publication Date: 15/11/2015
Category: Religion & politics
ISBN: 9780190275419
Free Home Delivery
on all orders
Pick up orders
from local bookshops
Also by Robert S. Leiken