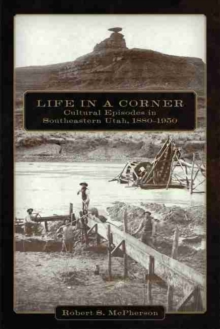 Life in a Corner : Cultural Episodes in Southeastern Utah, 1880-1950
Paperback / softback
Description
Community building in the Four Corners area of southeastern Utah required specialized knowledge and a good bit of determination on the part of settlers who wrested a livelihood from the Colorado Plateau.
Robert S. McPherson, the region's leading historian, draws on oral history and personal archives to write about cowboys and homesteaders, loggers and sawmill operators, law enforcement officers and bootleggers, miners and midwives, trappers and builders.
In Life in a Corner, he shapes their stories into a fascinating mosaic of cultural and environmental history unique to this region. McPherson demonstrates that, above all, settlers worked hard in order to succeed in this often forbidding land.
A first-person account of erecting a Latter-day Saint tabernacle tells of volunteers using only what was under their feet or came from a nearby mountain.
Other chapters give an insider's perspective on cowboying in canyon country, bringing law and order to a virtually lawless land, waging war against wolves and coyotes, and homesteading on some of the last large desert tracts in the continental United States. But the most gripping stories center on the ingenuity of those who lived these personal experiences.
Only a veteran trapper would think of burying an alarm clock to attract a coyote.
Only a determined bootlegger would devise a saddle made of leather-covered copper equipped with a spigot to dispense moonshine by the cup.
Only committed, or desperate, miners would sail with a one-way ""ticket"" to a gold field in a hidden desert chasm. What were midwives being taught at the turn of the century, and how did their practice involve equal parts religious doctrine and medical procedure?
What was a qualifying examination like for the first forest rangers? And how did small close-knit communities handle ""slackers"" during World War I?
Life in a Corner answers these and many other questions while offering fresh perspectives on past events and current controversies.
Information
Format: Paperback / softback
Pages: 304 pages, 41 black & white illustrations, 1 map
Publisher: University of Oklahoma Press
Publication Date: 30/04/2015
Category: Regional & national history
ISBN: 9780806146911
Free Home Delivery
on all orders
Pick up orders
from local bookshops