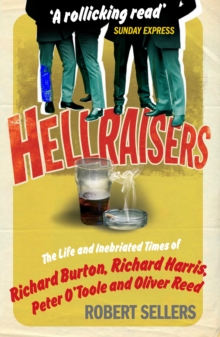 Hellraisers : The Life and Inebriated Times of Burton, Harris, O'Toole and Reed
Paperback
Description
God put me on this earth to raise sheer hell.' Richard Burton. 'I was a sinner. I slugged some people. I hurt many people. And it's true, I never looked back to see the casualties.' Richard Harris. 'Booze is the most outrageous of all drugs, which is why I chose it.' Peter O'Toole. 'I don't have a drink problem. But if that was the case and doctors told me I had to stop I'd like to think I would be brave enough to drink myself into the grave.' Oliver Reed.
This is the story of four of the greatest thespian boozers who ever walked - or staggered - off a film set into a pub.
It's a story of drunken binges of near biblical proportions, parties and orgies, broken marriages, drugs, riots and wanton sexual conquests.
They got away with it because of their extraordinary acting talent and because the public loved them.
They were truly the last of a breed, the last of the movie hellraisers.
Free Home Delivery
on all orders
Pick up orders
from local bookshops
Reviews
Showing 1 - 3 of 3 reviews.
Review by IrishHolger
16/06/2015
An intriguing concept... reading about the hellraising times of four of the screens best known boozers: Peter O'Toole, Oliver Reed, Richard Harris and Richard Burton. Trouble is that after a while reading up about this endless stream of drunken fights and broken furniture, it becomes quite monotonous and as repetitive as a drunkard's stories. All four men had talent to burn and very interesting lifes and if there's one thing this book can be accused off is to make them sound quite boring after a while.
Review by HeatherPetty
16/06/2015
A rollicking good read, an amusing anecdote on every page and very quotable. The writing style lacks polish but this suits the subject matter. Good one to take on holiday.
Review by sanddancer
16/06/2015
 The subtitle here pretty much says it all. Here the author has collected together anecdotes from the lives of these four famous actors, who are were also notorious boozers. The book is divided into chapters by decade from the 50s to the 90s, with a starting chapter giving some background information on the actors' upbringings and a final chapter called Last Man Standing which focuses on O'Toole's life in the last decade. The chapters move between each of the four main players one at a time (although they do sometimes crop up in each other's stories) so you would have one stories about Burton, followed by one about Harris, then O'Toole, then Reed, and back again. This makes the narrative rather disjointed and although it was full of great stories, I didn't feel that I ever felt I knew the actors any better. There are plenty of testimonies from friends saying what great men they were, how kind/funny/talented etc, but because this is essentially a collection of drunken antics, I didn't really see much of their better sides. With Burton in particular, there was a lot about how he wasted his talent and the others' reactions to his death are moving, but there isn't much of the charming side of Burton here. However, their lives were certainly more interesting than actors today, and it didn't seem like it was just these four (there are plenty of other outrageously behaved people in here), which made for an entertaining read. And I feel inspired to watch some of their better films.