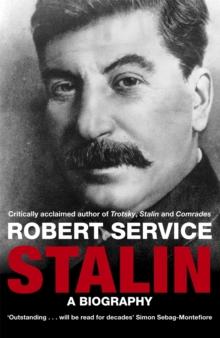 Stalin : A Biography
Paperback
Description
Drawing on a wealth of unexplored material - available for the first time since the collapse of the former Soviet Union - Robert Service's biography of Stalin is the most authoritative yet published.
It concentrates not simply on Stalin as dedicated bureaucrat or serial political killer, but on a fuller assessment of his formative interactions in Georgia, his youthful revolutionary activism, his relationship with Lenin, with his family, and with his party members. 'This is effectively the first full biography since perestroika to encompass the economic, political, diplomatic, military, administrative and, above all, ideological dimensions, as well as the personal aspects of Stalin's colossal life . . . Gritty and unshowy, but enlightened by Service's compelling characterisation, magisterial analysis and dry wit, this outstanding biography of lightly worn authority, wide research and superb intuition will be read for decades' Simon Sebag Montefiore, author of STALIN: The Court of the Red Tsar Sunday Times
Information
Format: Paperback
Pages: 736 pages
Publisher: Pan Macmillan
Publication Date: 16/04/2010
ISBN: 9780330518376
Free Home Delivery
on all orders
Pick up orders
from local bookshops
Reviews
Showing 1 - 2 of 2 reviews.
Review by everfresh1
16/06/2015
Very interesting and convincing portrait. I wish it would be a little more compressed.
Review by Miro
16/06/2015
In this excellent biography of Stalin, Robert Service provides an informative and balanced account with a high level of readability. The inescapable conclusion is that Stalin was a suspicious and aggressive "Gang Boss", selecting his gang members, and deciding who would join and who would leave. He also informed them of who their enemies were.Massive violence didn't worry him at all if it enhanced his power and removed his real, potential or imagined enemies, and he retained a direct oversight of the killings which proceeded on an epic scale with something like 15.000.000 mostly Russian and Ukrainians being killed from 1917 onwards by the Cheka/NKVD, in the Gulag death camps and in artificial death famines (see Google "Holodomor, Kaganovich").Service shows that Stalin was a master of power relationships, for example playing Lenin's chosen successors off one against another while building his own Secretariat power base including future figures like Molotov and Kaganovich and gaining sufficient power to finally attack his erstwhile colleagues. The author makes the point that unlike Trotsky, Stalin wasn't an intellectually superior "distant" leader and had a habit of close contact with direct rewards for his followers, which is not to say that he didn't have a considerable intellectual capacity. He was well read but understated his ability for political advantage.The book also interestingly covers the cult status of Lenin developed by Stalin with himself as the high priest. Some weaknesses in a basically excellent book could be 1) not making completely clear that the Bolsheviks did not have popular support in October 1917 and gained power in a violent coup, 2) not dedicating a full chapter to the extreme inefficiency of the Soviet system - which eventually brought it down, 3) not making clear that from 1917 to the late 1930's the Bolshevik leadership was overwhelmingly Jewish and not evaluating in more detail Stalin's relationship with them - not just after 1938.The book says that the Bolsheviks were the largest party in the 1917 Second Congress of Soviet Workers and Soldiers Deputies which could be somewhat misleading since they had nothing like a majority in the much more representative national Constitutional Convention which they violently broke up when their minority status became clear.The author does say that the Soviet economy was a consistent failure, "It had never been as adaptive (efficient) as capitalist societies in the West, and the conditions after the 2nd WW rendered its inflexibilities stronger that ever." It was also corrupt, "Not only in politics but throughout the administrative strata of the USSR there was theft, corruption, nepotism, informal patronage, misreporting and general disorder. Regional, institutional and local interests were defended" . Stalin also had a paranoid tendency to see "saboteurs and foreign agents" everywhere leading to a general fear of telling him the truth.Service does say that Jews were 2% of the Russian population and developed Bolshevism through the sequence Marx > Lenin > Trotsky/ Zinoviev/ Kamenev > and finally Stalin's Jewish administration with all the "Terror" directorates run by Jews eg. NKVD (Genrikh Yagoda, Yakov Agranov), the Gulag (Aron Solts, Yakov Rappoport, Lazar Kogan, Matvei Berman, Naftaly Frenkel) and the 1932/33 Ukrainian death famine organized and executed by Lazar Kaganovitch. The author could have usefully evaluated Stalin's relationship with his Jewish "gang" and their highly protected and favoured status prior to his 1937/38 conversion to Russian nationalism.Nevertheless, a great book and highly recommended.