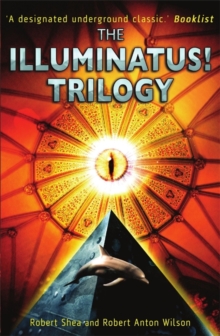 The Illuminatus! Trilogy
Paperback
Description
It was a deadly mistake. Joseph Malik, editor of a radical magazine, has snooped into rumours about an ancient secret society that turned out to be still alive and kicking.
Now his offices have been bombed, he's gone missing, and the case has landed in the lap of a tough, cynical, streetwise New York detective.
Saul Goodman knows he's stumbled onto something big - but even he can't guess how far into the pinnacles of power this conspiracy of evil has penetrated.
Brimming with sex and violence - in and out of time and space - the three books of The Illuminatus!
Trilogy are only partly works of the imagination. They tackle all the important cover-ups of our time - from who really shot the Kennedys to why there's a pyramid on the one-dollar bill - and suggest a truly mind-blowing reality.
Information
Format: Paperback
Pages: 816 pages, illustrations
Publisher: Little, Brown Book Group
Publication Date: 25/06/1998
Category: Science fiction
ISBN: 9781854875747
Free Home Delivery
on all orders
Pick up orders
from local bookshops
Reviews
Showing 1 - 5 of 5 reviews.
Review by ChadReasco
16/06/2015
A sum total of everything written before and after it; quite possibly the best candidate for replacing most religious text, if you can believe that.
Review by Pattern-chaser
16/06/2015
Drug-induced surrealistic 70s nonsense, incorporating the only truly believable account of the asssassination of President John Kennedy. Hail Eris!
Review by ablueidol
16/06/2015
Its very much a cult classic. The authors were writers at playgirl(!) in the 60's and decided to write a conspiracy story about all the conspiracy stories they were getting in correspondence. So we find out the "truth" who shot JK who controls congress, who Washington really was etc as the various fractions from the infighting at the fall of the 1st Atlantis continues to the modern day. Its written as a stream of consciousnesses (well I suspect when they were stoned) so plot and character change in mid sentence. Gorillas and Dolphins are part of the struggle...oh and endless sex and drugs and bad trips man. Enjoy it as the glorious piss take that it is and its sheer 60's grove baby but don't expect memorable characters and logical plotlines.
Review by jvalka
16/06/2015
This is a frustrating book to read, comparable to Philip K. Dick, William S. Burroughs and Thomas Pynchon. I skimmed over vast portions of the text, pausing to read the more coherent and/or sexy parts. The primary message here seems to be "think for yourself," that reality exists to be shaped by imagination, that both everything and nothing is true. I like the ideas much, much more than I do the execution here.
Review by 100yards
16/06/2015
I've tried at least twice to make my way through this book. Now I'm about to try for yet another time. I know it has two authors. They appear to pick up a pen and write without too much reference to what the other has just written. I also get the impression they were stoned most of the time.