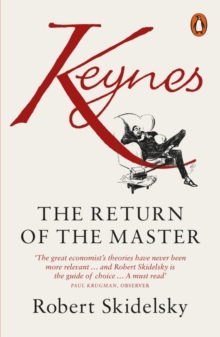 Keynes : The Return of the Master
Paperback
Description
Robert Skidelsky's Keynes: The Return of the Master shows how the great economist's ideas not only explain why the current financial crisis occurred - but are our best way out. 'One would expect brokers to be wrong. If, in addition to their other inside advantages, they were capable of good advice, clearly they would have retired long ago with a large fortune' John Maynard Keynes When unbridled capitalism falters, is there an alternative?
The twentieth century's most influential economist tells us that there is.
John Maynard Keynes argued that an unmanaged market system is inherently unstable because of irreduceable uncertainty; that fiscal and monetary ammunition is needed to counter economic shocks; and that governments need to maintain enough total spending power in the economy to minimize the chance of serious recessions happening. 'The great economist's theories have never been more relevant ... and Robert Skidelsky is the guide of choice ... A must read' Paul Krugman, Observer 'Keynes's economic policies helped lift Britain from its 1930s slump.
This accessible, timely study argues he could do the same again' Dominic Lawson, Sunday Times 'Masterly ... conveys complex ideas with clarity and controlled anger' Oliver Kamm, The Times 'Skidelsky knows more about Keynes than anyone alive ... he is righteous in his thunder ... provocative ... refreshing' Dwight Gardner, The New York Times 'Thought-provoking ... the best account I have read of the development of the credit crunch' Samuel Brittan, Financial Times Robert Skidelsky is Emeritus Professor of Political Economy at the University of Warwick.
His three volume biography of the economist John Maynard Keynes (1983, 1992, 2000) received numerous prizes, including the Lionel Gelber Prize for International Relations and the Council on Foreign Relations Prize for International Relations.
He is also the author of the The World After Communism (1995).
Information
Format: Paperback
Pages: 256 pages
Publisher: Penguin Books Ltd
Publication Date: 21/09/2010
Category: Economic theory & philosophy
ISBN: 9780141043609
Free Home Delivery
on all orders
Pick up orders
from local bookshops
Reviews
Showing 1 - 1 of 1 reviews.
Review by jcbrunner
16/06/2015
Remedial reading is seldom entertaining. Lord Skidelsky has written an outstanding multi-volume biography of the 20th century's greatest economist, John Maynard Keynes. This book serves as an introduction to those who are too lazy to read the biography (or its abridgment - to which I plead guilty, my reading progress being stuck after a few hundred pages) or an economics textbook about proper Keynesianism (if they still print those in the US).The book is divided into three parts. The first part is a (flawed) account of the current economic crisis. The book was written too early for a balanced account. Skidelsky, whose political views journeyed all over the place, places too much blame on the greedy poor taking out undeserving mortgages and not enough on corrupt bankers. He is also hampered by the fact that he continued to author Greenspanish paeans to the self-correcting market and the need for ultra-low inflation. He only manages partly to walk back on his former ideas.The second part is a short recapitulation of Keynes' life as a successful hedge fund manager, who nevertheless was nearly wiped out multiple times during the Great Depression, advisor to the British government and shaper of Bretton Woods. Part two also includes a quick overview of the main Keynesian ideas. Skidelsky points to Keynes' important notions of uncertainty and animal spirits that reign beyond the possibilities of economic calculus.Part three pleads for the return of intelligent Keynesianism in fiscal policy, a plea that only the pernicious influence of the Chicago economists prevents from being a mainstream idea. It as a sad fact that most US-trained economists are ignorant about Depression economics. If only the "practical men, who believe themselves to be quite exempt from any intellectual influence, are usually the slaves of some defunct economist," would let John Maynard Keynes be that defunct economist.