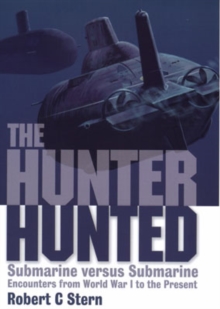 Hunter Hunted, The: Submarine Versus Submarine Encounters from Wwi to the Present
Hardback
Description
Well written narratives of dramatic engagements Much new information on many little-known incidents International in scope Submariners like to say that at sea there are only two kinds of vessel: submarines and targets.
From their inception submarines have been hunters, and for much of their history they have been extremely difficult to counter, so it was inevitable that attempts would be made to use their hunting qualities against their own kind.
This book chronicles some of the most significant of those clashes, from primitive beginnings to the dangerous, high-tech cat-and-mouse games of the Cold War era familiar from movies like The Hunt for Red October.
At first submarines were little better than submersible torpedo-boats - and slow, half-blind ones at that - with weapons that could not operate in three-dimensions, so the early encounters occurred with the hunted party on the surface.
Even then there were failures, mishaps and 'friendly fire' incidents, with mysteries surrounding the fate of some boats that remain unsolved to the present.
It was not until 1945, when HMS/M Venturer sank U864, that a submarine fell prey to another while both were submerged. This is still the only such confirmed sinking, but since 1945 there have been rumours of others, accidental victims of the 'war by another name' that characterised the tension between the West and the old Soviet Union.
The book concludes by investigating some of those for which evidence has leaked out.
With individual chapters devoted to each incident, the book may be read as a series of dramatic narratives, but taken as a whole it amounts to a complete history of the submarine from an unusual and previously neglected angle.
Information
Format: Hardback
Pages: 208 pages, Illustrations
Publisher: Greenhill Books
Publication Date: 01/02/2007
Category: Military history
ISBN: 9781861762658
Free Home Delivery
on all orders
Pick up orders
from local bookshops