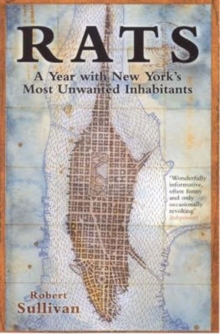 Rats : A Year with New York's Most Unwanted Inhabitants
Paperback
Description
Surprisingly funny and compulsively readable, "Rats" is an unlikely account of a year spent in a garbage-strewn alley in lower Manhattan.
Sullivan spends the year with a notebook and night-vision goggles, hunting for fabled rat-kings, trapping a rat of his own, and trying (and failing) to conquer his own fear of rats.
He meets the exterminators, garbage men, and civic activists, who play their part in the centuries-old war between human city-dweller and wild city rat.
He travels to a bizarre Midwestern conference on rats that brings together the leading experts on rat history, behaviour, and control (did you know that one pair of rats has the potential for 15,000 descendants in a year?
That rats' teeth are harder than steel?). And, he reveals the many ways rats' lives mirror those of humans.
Sullivan's unusual and absorbing book earns a place alongside the classics of travel writing.
Information
Format: Paperback
Pages: 256 pages
Publisher: Granta Books
Publication Date: 06/03/2006
Category: Zoology: Mammals
ISBN: 9781862078185
Free Home Delivery
on all orders
Pick up orders
from local bookshops
Reviews
Showing 1 - 2 of 2 reviews.
Review by clfisha
16/06/2015
A beautifully written, highly engaging book on err.. rats. Well it's not just about rats, it's a wonderful mix of social politics, history and science too. Sullivan chose to concentrate on rats ' relationship with humanity and this keeps this book from being dry, instead it's fun and full of life. He knows when to digress with a fascinating aside, concentrate on personal accounts or recount history. It's packed full of interesting things but even though there's a wide remit it fits together remarkably well. I thought it a well researched book and luckily the author doesn't need to show off, his judicious use of facts and his ability to clarity makes this lots of fun.Of course there's a caveat people expecting to have a book based solely on rats will disappointed, others who already have a good knowledge of New York or USA history may have seen some of it before and be bored. Although Sullivan writes in such an engaging fast paced manner that that this may not matter. The was one minor fault for me (although it did not detract from the book). Sullivan's attempts to tie the book together thematically, to reach a conclusion to his obsessive year seemed false, interesting yet strained.Still I would highly recommended this book to ..well just about anyone.
Review by jcbrunner
16/06/2015
Everything you wanted to know about New York's rats (rattus norvegicus) but were afraid to ask can be found in this entertaining booklet. Some people have truly strange hobbies. The author obviously enjoyed hanging out in New York's seedier and abandoned alleys to observe rats feeding on the wastes of consumer society. The most important finding of the book is that the rat population is controlled by its access to a food supply. Rat traps don't work (due to the risk-averse and conservative nature of rats). Poison only temporarily checks the rat population. Cleaning up, closing architectural sins and locking away food and waste is the only way to solve pest problems.While Sullivan points out that rats may pop up anywhere, pest problems are good indicators of both poverty and failed public healthcare problems. New York's infrastructure is clearly and visibly worse than many a comparable big city, due to massive underinvestment and focus on developers instead of the people. Taking better care of the people in need, making back alleys nicer, safer and cleaner would, however, necessitate a shift in political priorities. At least, New Yorkers are today spared the cruel entertainment of rat-baiting, whose eradication by a political struggle is ably told by Sullivan. Recommended for a good introduction to both the animal and a darker side of the Big Apple.