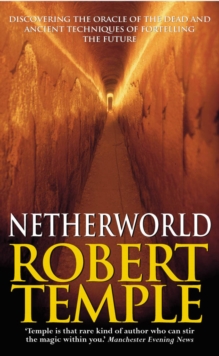 Description
It is possible to see what will happen to us in the future, or what forces are at work upon us?
The ancients certainly believed this to be the case and so, in "Netherworld", Robert Temple examines and contrasts the traditions and techniques of divination of classical Greece and Rome, and those of ancient China.
In his quest to find out more about the ancients and their beliefs, for the first time in living memory he ventured into the real, physical location of the Oracle of the Dead, the 'hell' of the ancient Greeks as found in "The Odyssey" and "The Aeneid" and, in a vivid and evocative account, describes his first journey down into this eerie, underground complex.
What were the mysteries associated with Delphi and the other oracles of the ancient world?
What other methods did the Greeks and Romans have for foretelling the future?
After a fascinating study to find the answers to these questions, Temple turns to the Chinese oracular syste, the I Ching, which, intriguingly seems to be a genuine intuition and something that, even today, we do not fully appreciate. "Netherworld" is a gripping, and sometimes breathtaking, examination of the prophetic underside of human history and of human attitudes towards fate.
Free Home Delivery
on all orders
Pick up orders
from local bookshops
Reviews
Showing 1 - 1 of 1 reviews.
Review by AnnaOok
16/06/2015
The author is a cookie, but of the benign variety. The book actually includes some interesting primary source material, especially in the first part about ancient Mediterranean oracles -- the most interesting being the author's own visits to the oracular cave in Baia (Italy). The collection of writings on divination by ancient authors like Pliny (and other, less famous ones) is also interesting.Unfortunately any original conclusions or extrapolations by the author are to be treated as wild speculation, since he seems to lack any ability to approach his sources critically -- or rather, he seems to lose that ability when the extrapolation goes in a direction that he finds fascinating.At some point in the course of the book, I gave up howling and screeching at him every half page and started becoming amused instead, and this did improve the reading experience.The second half of the book is cookier. It starts out with Chinese oracles (bones/tortoise shells and the I Ching), gets entranced with the fact that the I Ching, based on a binary system of whole or broken lines, is -- wait for it -- BINARY!!! But the binary system was only discovered in the West by Leibniz in the 17th century!!! (Not discovered, <i>invented</i>. And binary notation is not the same as binary arithmetic: the I Ching is not binary arithmetic. Sorry Mr Temple -- Ed.)From here he moves on to hexagons, which he seems to find really exciting. After explaining in detail how they are the most economical way of filling a plane, he then proceeds to find it nothing short of miraculous that so many things that need to cover a surface <i>actually and in the real world</i> do so with hexagons. From two-dimensional hexagons he goes on to "economical" solids, which <i>are related to hexagons</i>!!! (And in those cases where they aren't, it is possible to work out hexagons one way or another by combining selected faces. Or at the very least they will be found to contain 60-degree angles somewhere). This all seems to have deep and portentous significance. There's a longish section where every sentence that contains the word "hexagon" seems to end in an exclamation mark.Also notable is the "they also laughed at Hoyle and Wickramasinghe" part, if nothing else as a true piece of cookie bravura. (This is in connection to comets predicting plague and other disasters. According to the author, Hoyle and Wickramasinghe clearly "demonstrated" that viruses come on Earth from space via cometary debris -- which is also the origin of life on Earth -- and so comets did predict plagues. Even so, he kind of forgets to explain about the other disasters, but hey.)In his favour, the author is a kook but not a crook: he comes across as honest and genuinely enthusiastic, which can be endearing and makes the book easier to read -- just a bit lacking in the critical-approach department. In conclusion: the book collects some interesting facts, but does so under wildly speculative theories that really don't stand up, sorry. Worth having a look at if you have an interest in one of the specific areas he touches on. Just don't give it to young and impressionable readers who may themselves lack critical reading skills and may therefore take it too seriously.