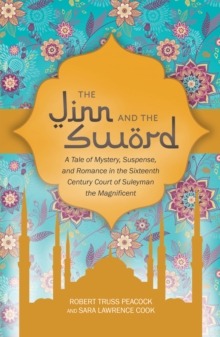 The Jinn and the Sword : A Tale of Mystery, Suspense, and Romance in the Sixteenth Century Court of Suleyman the Magnificent
EPUB
Please note: eBooks can only be purchased with a UK issued credit card and all our eBooks (ePub and PDF) are DRM protected.
Description
"Certain elements of digital artistry and formatting, asdepicted in the hardcover and paperback editions of this book, cannot be replicated in the ebook version due to device limitations."
The sixteenth century was rife with turmoil throughout Europe. The Topkapi Palace in Istanbul (Konstantiniyye), the seat of the Ottoman Empire, was not immune to the strife and chaos. The imperial court of Suleyman the Magnificent was a focal point for recondite, multilayered mysteries, and a breeding ground for plots Topkapi officials who may be conflicit. Suleyman summons Conte Vincenzo Lupo de Venezia (II Lupo the Wolf) to assist in the resolution of the proliferating intrigues and thwart assassination attempts against the sultan and his favored harem concubine, Roxelana. II Lupo is renowned as a master swordsman and for his remarkable investigation skills and acumen, having foiled recent plots against the French king, Francis I, and Albert, Duke of Prussia. II Lupo established a martial arts academy in Venice where the finest fighters from around the world seek his expert tutelage, including his seventeen-year-old daughter, Francesca. Having lost his wife during childbirth, II Lupo has raised Francesca as a single father. A master of the martial arts and disguise, Francesca travels with her father disguised as a boy. Arriving in Istanbul, they are escorted by Kemal, Suleymans personal bodyguard and captain of the palace guard, the Elite Beyliks. Born a Palestine Jew, Kemal was torn from his home at age eleven, enslaved by the Ottomans, and educated in the palace school as a janissary. He rose to his esteemed status at the age of twenty-six. His public persona of a handsome and fearsome warrior is juxtaposed against that of a brilliant, sensitive poet with deeply suppressed longings for his homeland. A romance between Francesca and Kemal blossoms as they join forces with II Lupo and Aziz, Roxelanas formidable and favored black eunuch, to quash assassination attempts and solve mysteries surroundings the theft of sacred relics of Muhammad from their Topkapi respository. Theft masterminded by a seemingly supernatural Shaitan are accompanied by gruesome murders committed by a demonic jinn, dwelling in labyrinthine secret passagewaysa subterranean maze running through the ancient Byzantine acropolis upon which the Topkapi Palace was built. Although filled with intrigue, action, and suspense as its heart, the book is a story of love, yearning, awakening and beneficence that touches the human spirit. This verisimilar story is presented with a visual richness evocative of the times and the tale and artistry reminiscent of the illuminated manuscripts and calligraphy of the era.
Information
Format: EPUB
Publisher: Xlibris US
Publication Date: 25/01/2018
ISBN: 9781543468991
Delivered to your inbox
to transfer to your device