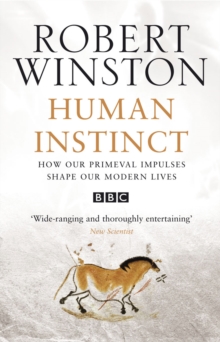 Description
From caveman to modern man ... Few people doubt that humans are descended from the apes; fewer still consider, let alone accept, the psychological implications.
But in truth, man not only looks, moves and breathes like an ape, he also thinks like one.
Sexual drive, survival, competition, aggression - all of our impulses are driven by our human instincts.
They explain why a happily married man will fantasize about the pretty, slim, young woman sitting across from him in the tube and why thousands of people spend their week entirely focused on whether their team will win their next crucial match.
But how well do our instincts equip us for the twenty-first century?
Do they help or hinder us as we deal with large anonymous cities, stressful careers, relationships and the battle of the sexes?
In this fascinating book, Robert Winston takes us on a journey deep into the human mind.
Along the way he takes a very personal look at the relationship between science and religion and explores those very instincts that make us human.
Information
Format: Paperback
Pages: 432 pages
Publisher: Transworld Publishers Ltd
Publication Date: 27/09/2003
Category: Popular science
ISBN: 9780553814927
Free Home Delivery
on all orders
Pick up orders
from local bookshops
Reviews
Showing 1 - 1 of 1 reviews.
Review by nandadevi
16/06/2015
Well I have doubts about this book on two levels. Firstly it is 'the book of the television series' which leads to questions about whose book is it? Winston's or the researchers for the TV series? Winston kinda mentions that its not all his own work, but without being altogether forthright about it being - perhaps - in fact the work of everyone else. Which leads to the second criticism (and the fatal flaw), lack of attribution of 'facts'. Try this: "There are some studies which bizarrely indicate that, for some unknown reason, the chances of a woman conceiving from a single act of rape are more than twice those of a woman engaged in a single act of consensual sex." There's no reference to these 'studies'. For me this was the thirteenth strike of the crazy clock - everything had seemed tolerably amateurish up to this point. I resisted the temptation to throw the book in the bin, but it wasn't really worth persisting with. For wide-eyed viewers of some hack television channel this might seem like brilliant stuff, but it is all borrowed. Winston doesn't stand on the shoulders of genius, rather he is trudging along behind sweeping up scraps. The only meritorious part of this book was the very short bibliography. Scientific trash.