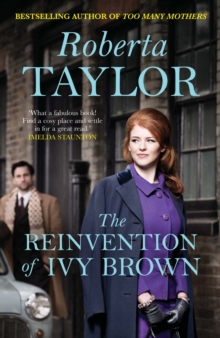 The Reinvention of Ivy Brown : A Novel
Paperback
Description
It is February 1963, and London is enduring the coldest winter anyone can remember.
Ivy Brown, typist at the Wiseman Pulverizer Company, is about to turn thirty.
As she sits, staring at the back of the typist in front of her and trying to avoid thinking about her impending birthday, two things lift her from her gloom: her brand new Beaver Lamb coat and thoughts of Arthur...Arthur is the man on whom Ivy has pinned all her hopes. 'We are our own secret' Arthur says, and Ivy loves to repeat it.
But when Ivy discovers that Arthur is a man who has many secrets, her determination to uncover the truth comes to spell disaster for all those in her way.
Information
Format: Paperback
Pages: 224 pages
Publisher: Atlantic Books
Publication Date: 01/07/2009
ISBN: 9781843547754
Free Home Delivery
on all orders
Pick up orders
from local bookshops
Reviews
Showing 1 - 1 of 1 reviews.
Review by AdonisGuilfoyle
16/06/2015
The Reinvention of Ivy Brown is a clever, witty and complex novel by ex-EastEnders actress Roberta Taylor, set during the 'Big Freeze' of February 1963. I initially wanted to this novel for the time and place in which the story is set, but was pleasantly surprised to discover that this is more than the average 'family saga' fiction for middle-aged women. In fact, reading Ivy Brown reminded me of the short stories of Flannery O'Connor, in which gothic twists of character and fate hide beneath everyday situations. I'm not saying that Roberta Taylor is a literary genius, but her books hardly deserve to be shelved with the 'our lass' type family sagas, or panned by readers who are obviously expecting that level of writing.Ivy, Janet, and Eileen are three women whose love for the same man brings them together during the freezing winter of 1963. Eileen thinks Brian belongs to her, but Ivy and Janet are rivals for his affection, and the fight to claim and keep his love will uncover secrets that threaten to undo them all. The 'twist in the tale', though telegraphed early, is very cleverly written, and might even require a second reading to properly untangle the web that binds the characters together. Janet, the typical rebellious teenager of the 1960s, and Eileen are sympathetically drawn, whereas the eponymous 'reinvented' heroine is abrasive and unlikeable, but all of the characters are flawed and believable.I also loved Roberta Taylor's style. Her descriptions of the weather - 'Any sense of spring, summer or autumn had been buried forever under the icy pavements, as if the different seasons no longer belonged here. This has become the state of the nation' - and the fashions of the time - 'Black rolled-neck sweater, tight black pants, flat black pumps. Her lovely innocent hair, butchered into this docked cap of revolution' - are sharp and almost darkly nostalgic. The fruity dialogue amused me, too.Readers expecting a Catherine Cookson type story, full of homely values and happy ever afters, might be disappointed with Ivy Brown. Though brief, Roberta Taylor's novel is a thought-provoking, multi-layered combination of realism and gothic drama, bringing to life the changing values of the early 1960s.