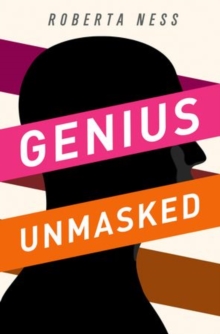 Description
Genius. It is a word that invokes mystique. How did Einstein deduce the theory of special relativity? How did Rutherford intuit the inner secrets of the atom? Although (in hindsight) genius can appear to have been predictable, more often such thinking was inscrutable - like a bolt of insight arising from nowhere. Perhaps the minds of geniuses, prepared through the providence of genetics, were simply lucked upon by chance. Or perhaps their visionary insightswere attained through divine intervention. But could there be an entirely different explanation? Could there be a more knowable process underlying genius?Genius Unmasked reveals the nature of genius.
Roberta Ness asks, "Is breathtaking creativity really so magical? Or are there, instead, consistent maps that iconic scientists used to discover their imaginative ideas?" What this entertaining book demonstrates is that genius is achieved through a thinking process that is less mystical than it is systematic.
Even the greatest of innovative minds used a cognitive tool box that can be opened and understood. Genius Unmasked is an adventure through the lives and minds of more than a dozen genius scientists. It unveils the formula behind their radical thinking. But this is not just a book of stories. Through explanation of innovation tools and their impressive demonstration, it will help you to learn for yourself how to become a better innovator. In the end, Genius Unmasked is a "how to" book for advancing your own personal creativity.
Information
Format: Hardback
Pages: 240 pages
Publisher: Oxford University Press Inc
Publication Date: 25/07/2013
Category: Child & developmental psychology
ISBN: 9780199976591
Free Home Delivery
on all orders
Pick up orders
from local bookshops
Also by Roberta B. Ness