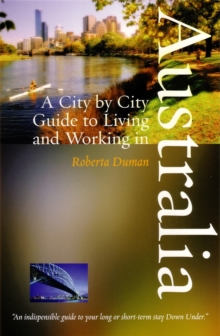 A City by City Guide to Living and Working in Australia
Paperback / softback
Description
Migration to Australia is not always straightforward, nor is it the right choice for everyone.
This book is designed to assist people in making an informed decision ahead of taking the huge step to relocate.
It will equip readers with enough information to prepare them for the day-to-day realities of living and working in Australia, as this often turns out to be very different from what was expected.
Part One is a general overview to Living in Australia and details the complex visa process, finance, healthcare, lifestyle, property and education.
It also contains up to date information on the current economic situation, which industries are on the rise and decline, how to go about your job search from the UK and Australia, where to look for work and how to increase your opportunities and secure the correct visa.
Part Two examines Australia's main cities (Sydney, Melbourne, Brisbane, Perth, Adelaide, Canberra and Tasmania) and provides comprehensive information about what to expect from each in terms of lifestyle, employment opportunities, recreation, residential options and information on education and childcare for those with families.
Written from personal experience, this book seeks to reduce some of the stress involved in making the momentous decision to live / work in Australia and offers valuable advice and tips on how to save time and money. Contents: Part 1: Living In... 1. Why Australia? 2. Australia - An Introduction 3. The Australian way of life 4. Getting around Australia 5. Finance 6. The Australian healthcare system 7. Education and Childcare 8. Renting your Australian home 9. Utilities 10. Shopping guide- how to save time and money Part 2: Working In... 11. The job market in Australia 12. Researching the Australian job market from the UK 13.
Starting your job search Part 3: Visas and Immigration 14.
An overview 15. Temporary residence 16. Permanent residence Part 4: City-by-City Guide 17. Living in Sydney and NSW 18. Renting a home in Sydney's suburbs 19. Recreational Sydney 20. Working in Sydney 21. Living in Melbourne and Victoria 22. Recreational Melbourne 23. Working and studying in Victoria and Melbourne 24. Living in Brisbane and Queensland 25. Working and Studying in Brisbane 26. Living in Perth and Western Australia 27. Working and studying in Perth 28. Living in Adelaide and South Australia 29. Working and studying in Adelaide 30. Living in Canberra and Australian Capital Territory 31.
Working and studying in Canberra 32. Tasmania 33. Making the move 34. Slang
Information
Format: Paperback / softback
Pages: 0
Publisher: Little, Brown Book Group
Publication Date: 27/01/2006
Category: Living & working abroad
ISBN: 9781845280895