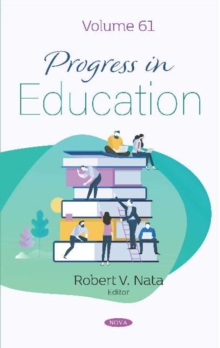 Progress in Education. Volume 61 : Volume 61
Hardback
Description
The study presented in the opening chapter of Progress in Education.
Volume 61 examines Common Core State Standards teacher preparation through professional development opportunities for elementary school teachers in rural areas of the South Eastern Region of the United States.
The study posits the question, "Were teachers in the rural South properly and equitably prepared to teach both the English Language Arts and Math Common Core Standards?" The following chapter focuses on the use of the computational thinking process for problem solving and, in particular, for case-based reasoning and mathematical modelling.
The former is a method of solving problems based on the solutions of previously solved analogous problems, while the latter deals with the mathematical formulation and solution of problems connected to real word, science and technology applications.
Next, some learning activity patterns are identified from a thorough qualitative study of students' behaviors recorded in a major Massive Open Online Courses platform.
Then, two recently developed learning-based models for modeling students' learning behaviors which are motivated by such observations are described.
The authors go on to study the inclusive approach to the conducting-choral training of future teachers of musical art.
It considers the essence of the concept of "inclusiveness".
The inclusive approach to conducting-choral training involves both the use of the traditional teaching principles and the specific principles we have developed.
In academic fields, both teachers and students are likely to suffer technology anxiety.
As such, one chapter focuses on the main factors behind this type of anxiety according to the currently available literature on computer anxiety: age, gender and experience.
The process of choosing a university degree involves uncertainties for the students referred to their personal abilities, interests, and social and professional expectations.
The main objective of the penultimate chapter is determining whether their expectations of a particular university degree differ significantly according to gender.
Flipped classrooms have been considered to be a form of innovative teaching and learning in university education for a few years.
The purpose of the final study is to explore how flipped classrooms with learning communities affected university students' self-regulated learning and teachers' professional development.
Information
Format: Hardback
Pages: 251 pages
Publisher: Nova Science Publishers Inc
Publication Date: 22/10/2019
Category: Society & social sciences
ISBN: 9781536163001
Free Home Delivery
on all orders
Pick up orders
from local bookshops