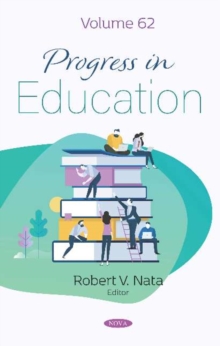 Progress in Education. Volume 62 : Volume 62
Hardback
Description
In the opening chapter of Progress in Education. Volume 62, two classroom practices are presented and applied within a different group of students using two pedagogical methodologies, with the goal of allowing students to acquire new vocabulary and communicative skills using a foreign language Following this, Singapore's educational context is described in detail, and 19 noteworthy studies on school classroom environments in Singapore are reviewed.
The authors also explore the structure and processes that underlie learning as a Community of Practice in a nonformal education program for parents of young children.
This compilation assesses the way in which activities aimed at equalizing the educational opportunities of pauperized children require a modern teacher to constantly improve and deepen their competencies.
Procedures are presented for applying the dynamics assessment model (learning potential in Spain) to preschool children with Down syndrome.
A comprehensive review of research from various parts of the world that examines the practical uses and benefits of blogging is provided, in the context of teaching diverse academic disciplines and fields of expertise.
The authors draw evidence from a qualitative study to describe how undergraduate co-operative education students in multidisciplinary, private blogging communities reflected on their experiences by contributing to their blogs.
The concluding chapter presents the Google applications that certification seekers will be responsible for understanding, as well as the types of questions to expect and, ultimately, how to incorporate these skills into the K-12 classroom.
Information
Format: Hardback
Pages: 243 pages
Publisher: Nova Science Publishers Inc
Publication Date: 18/02/2020
Category: Society & social sciences
ISBN: 9781536171662
Free Home Delivery
on all orders
Pick up orders
from local bookshops