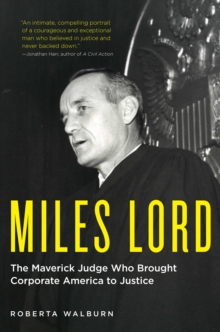 Miles Lord : The Maverick Judge Who Brought Corporate America to Justice
Hardback
Description
This is the story of Miles Lord (1919-2016), who rose from humble beginnings on Minnesota's Iron Range to become one of the most colorful and powerful judges in the country, described as "an unabashed Prairie populist" and "a live-wire slayer of corporate behemoths." He cut a wide swath through history on his path to the bench: coming of age alongside a cadre of young Midwestern social-gospel progressives, including Hubert H.
Humphrey, Eugene McCarthy, and Walter Mondale, in the days before they reached national fame; teaming with Bobby Kennedy as a hotshot prosecutor in pursuit of Jimmy Hoffa; and serving as the secret envoy between his friends Hubert and Eugene in their battle for the soul of the Democratic party in the historic 1968 presidential campaign.
Later, after donning his black robe, he reshaped jurisprudence with precedent-breaking rulings-on issues ranging from women's rights to consumer protection to education reform-and breaking trail when he ordered the shutdown of the Reserve Mining Company in northern Minnesota, which was spewing its waste into Lake Superior, in the most sensational trial of the early environmental era. One of Judge Lord's landmark cases-and interlaced as a centerpiece narrative of this book-involved the Dalkon Shield intrauterine device, which caused horrific infections in thousands of women, resulting in infertility and sometimes death.
Author Roberta Walburn served as the judge's law clerk during that litigation in 1983-84, and she provides a page-turning account (both an insider's view and an in-depth chronicle) of what was called "one of the most disastrous episodes of American corporate misconduct." In the end, more than 200,000 women received nearly $3 billion in compensation, and the Fortune 500 defendant was left in ruins.
But Judge Lord was hauled up on judicial misconduct charges for his no-holds-barred actions that were certainly provocative but also stand as a timely reminder, even (or especially) today, of the challenges in balancing the scales of justice for a legal system that too often skews to the rich and powerful. The author deftly weaves the Dalkon Shield drama into the larger story of the life of a one-of-a-kind man, crafting a sweeping and spirited true-life tale with not only her first-hand experiences as the judge's law clerk but also with unrestricted access to the judge's personal files.
This is a rare and compelling portrait of a remarkable man and his place in both Minnesota and U.S. history.
Information
Format: Hardback
Pages: 344 pages, 22 black and white plates
Publisher: University of Minnesota Press
Publication Date: 01/10/2017
Category: Biography: general
ISBN: 9781517902315
Free Home Delivery
on all orders
Pick up orders
from local bookshops