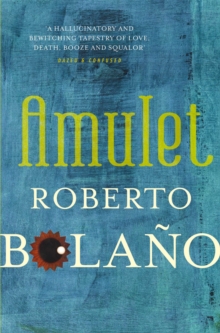 Description
'Roberto Bolano redefined the form of the novel in his masterpiece 2666; with the hallucinatory narrative of Amulet, he reimagines what literature can become' New Statesman Auxilio Lacouture is trapped.
For twelve days she hides alone in a lavatory on the fourth floor of the university.
Staring at the floor, she begins a heartfelt and feverish tale: she is the Mother of Mexican poetry.
This highly charged first-person semi-hallucinatory novel is a potent stream of consciousness through which the poets of Mexico rage and swirl.
Filled with wild, dark literary prophecies, heroic poets, mad poets, artists 'choked by the brilliance of youth', Auxilio's passionate narration -- both heart-breaking and lyrical -- is suffused with the essence of Bolano's art. 'A short, original, engaged and engaging novel; a good introduction to the longer works of this writer.' Times Literary Supplement 'Encapsulates the violence and tragedy of recent Latin American history ...spare but beautifully compacted' The Times 'His work is the crossroads where Marquez meets Burroughs and Borges meets Mailer, resulting in a riotous dust-up' John Banville, Guardian 'A curtain-raising taster to the epic of his landmark works' Boyd Tonkin, Independent
Information
Format: Paperback
Pages: 192 pages
Publisher: Pan Macmillan
Publication Date: 04/06/2010
ISBN: 9780330510493
Free Home Delivery
on all orders
Pick up orders
from local bookshops
Reviews
Showing 1 - 4 of 4 reviews.
Review by soylentgreen23
16/06/2015
Bolano has written some excellent shorter novels and collections of short stories, but none of them work as well as his magnum opus, 2666. Amulet appeared as one of the tangential passages in The Savage Detectives, and although it is expanded upon neatly here, one wonders if it would have been best to leave it as the anecdote that it was. It is barely long enough to deserve the title of novel, and without the trademark panache of a Bolano piece it would have been a real disappointment. Worth reading, then, but only if you're something of a Bolano completist, which it looks like I'm becoming.
Review by Voise15
16/06/2015
Beautiful and dreamlike and unmistakeably Bolano. I was intrigued to read this following the reference in The Savage Detectives.Bolano blurs the distinction within the narrative between fact and fiction to a dizzying extent and asks some telling questions about how we experience the world (see also Monsuier Pain).
Review by pgmcc
16/06/2015
Roberto Bolaño came to my attention when his book 2666 appeared on a shelf in my local bookshop. 2666 is an enormous book and it looks impressive and is quite pretty. Always being susceptible to the charms of a pretty book I investigated, saw the ebullient praise of Bolaño's work and got suspicious. Is he this good? Will I like his work? "Amulet" provided the toe in the water for this author's writing and my impression, having finished this teaser, is that I shall be reading his other works.In "Amulet", Bolaño gives the reader a view of the world of South American poetry, and the poetry scene in Mexico City in particular, over a period spanning the 1960s and 70s. The narrator is a lover of poetry who has devoted her life to being near the poets whose work she loves, and the young poets whose energy, enthusiasm and freedom of thought touches her.If asked what this book is about I would say it is about poetry, revolutionary thoughts, love, the passing of time and growing old.Bolaño's mechanism for presenting this history is interesting and I think frees the reader from the linear passage of time, and blurs the boundaries between real memories and possible memories.I would suggest the narrator is not one hundred percent reliable, but the result comes across as a credible perception of Mexico City in those decades and the symbiotic relationship between the poetry movements and South American revolutionary thought, and indeed, action.
Review by Ameise1
16/06/2015
What a fantastic story which is written with a great of love for the main character Auxilio Lacouture who is hiding for twelve days alone in a lavatory on the fourth floor of the university of Mexico during a police riot in 1967. She is in a state of hallucinatory and is calling herself the mother of Mexican poetry. She is telling stories about poets and artists which she could have met and the experiences she could have made. Mostly the reader has the feeling that everything had happened in real and only occasionally is reminded that she is making things up due to still be trapped in the lavatory.The language is very strong and kept me gripping until the very last page. A lot of poets and authors who are mentioned in this book I do know by name or I've read something from them.