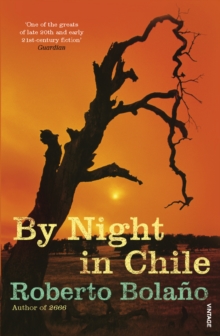 By Night in Chile
Paperback
Description
During the course of a single night, Father Sebastian Urrutia Lacroix, a Chilean priest, who is a member of Opus Dei, a literary critic and a mediocre poet, relives some of the crucial events of his life.
He believes he is dying and in his feverish delirium various characters, both real and imaginary, appear to him as icy monsters, as if in sequences from a horror film.
Thus we are given glimpses of the great poet Pablo Neruda, the German writer Ernst Junger, General Pinochet, whom Father Lacroix instructs in Marxist doctrine, as well as various members of the Chilean intelligentsia whose lives, during a period of political turbulence, have touched upon his. By the author of 2666.
Information
Format: Paperback
Pages: 144 pages
Publisher: Vintage Publishing
Publication Date: 02/07/2009
ISBN: 9780099459392
Free Home Delivery
on all orders
Pick up orders
from local bookshops
Reviews
Showing 1 - 4 of 4 reviews.
Review by soylentgreen23
16/06/2015
In '2666' Bolano mentions an exchange with a reader of books - maybe a pharmacist by trade, I can't remember - who lists his favourite books as the shorter works of great writers, and Bolano wonders what has happened to the courage of the novel reader (in general) in preferring the shorter, more carefully crafted works to the sprawling epics - 'Bartleby' instead of 'Moby Dick' and so on. So really I should prefer '2666' to 'By Night In Chile', and I do, but only because there's more of Bolano's scintillating writing in the former; this book still contains everything I could possibly ask of a novel, sucking me in as it did with the very first page and spitting me out, a changed man, at the end. 'By Night In Chile' might only last two paragraphs, and run to only 130 pages, but it is as involved and involving as any great novel, and I'm so, so glad that I troubled myself to read it.
Review by Voise15
16/06/2015
An elegantly written 'death-bed' confession, full of allegory and innuendo - exploring the tension between silence and complicity in Pinochet's Chilean regime - within the life of priest and sometime poet / literary critic Father Sebastian Urrutia Lacroix, but also the relationship between artists, the intelligensia and authority generally.Bolano's playful spirit shines through although this is a serious and thoughtful novel - I particularly enjoyed the Father's accounts of his visits (or not, as he recalls!) to the soirees of Maria Canales.The somewhat esoteric form of the novel (a single paragraph of 130 pages and a final paragraph of one line) appears at first glance to be intimidating, but as commented by other reviewers, the wonderful rhythmic style of Bolano makes this a pleasure to read.
Review by TomMcGreevy
27/08/2015
As riveting as a conscious descent into dementia can be ... stream of consciousness musings on a life lived under strict self-control, the facade of order falling away as death nears.
Review by flydodofly
27/08/2015
At the end of his sorry life, a catholic priest, intellectual and poet tells the stories that keep swirling in his mind, asking him the uncomfortable rethorical question, again and again: have you done the right thing, have you acted as you should have, what have you done, where have you been, and why that and there, why not something else, somewhere else? The question is targeted at all Chilean intellectuals, writers and artists and shows the disappointment the young generation is bound to feel. Personally, I could not enjoy or appreciate the author's style, but much could have been lost in translation and culture. since I am not familiar with it. It was nevertheless interesting and very intensive read, even if it was a short one.