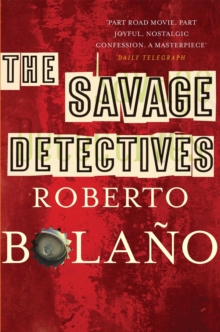 The Savage Detectives
Paperback
Description
With a new afterword by Natasha Wimmer 'Savagely comic yet equally tender ...This novel is an elegy for a generation' Independent New Year's Eve 1975, Mexico City.
Two hunted men leave town in a hurry, on the desert-bound trail of a vanished poet.
Spanning two decades and crossing continents, theirs is a remarkable quest through a darkening universe -- our own.
It is a journey told and shared by a generation of lovers, rebels and readers, whose testimonies are woven together into one of the most dazzling Latin American novels of the twentieth century. 'The comic frenzy, the inventiveness of character and situation, and the mood-soaked depiction of 1970s Mexico is delightful' Times Literary Supplement 'A portrait of people for whom literature is bread and water, sex and death.
The abiding message to be taken from Bolano's novel, and maybe from his fraught life, too: books matter' GQ 'It's no exaggeration to call Bolano a genius.
The Savage Detectives alone should grant him immortality' Washington Post 'Bolano makes you feel changed for having read him; he adjusts your angle of view on the world' Guardian
Information
Format: Paperback
Pages: 604 pages, Illustrations
Publisher: Pan Macmillan
Publication Date: 04/09/2009
ISBN: 9780330509527
Other Formats
EPUB from £5.59
eAudiobook MP3 from £29.36
Free Home Delivery
on all orders
Pick up orders
from local bookshops
Reviews
Showing 1 - 4 of 4 reviews.
It has all the ingredients (which are amply on view in the glowing reviews) of a novel of ideas, of unusual structure, of wistful longing, of grail searches, etc, etc, etc. But the result is less than the sum of the ingredients. It's hard for me to imagine how this could have been better. Maybe, just maybe if it had been shorter, without all the chaff in the middle.I didn't think that the characters were fleshed out enough to make me care what was happening to them. And what the heck is visceral realism? Why do I care if they find this woman? Gee, it's all so mysterious. I get it. I went back after reading it to the reviews -- now why is this a great novel? I'm still puzzled. None of the reviews could convincingly frame its greatness with specific insights -- there's a lot of surface gloss that impressed them. Doesn't make me want to read more of this author. Sort of a waste of my time.
Review by soylentgreen23
16/06/2015
'The Savage Detectives' is quite possibly the most difficult read of 2010, but also one of the most satisfying. It took me most of September to read the first 300 pages, and then I finished the rest in a few marathon sessions in the last couple of days. I know that my dreams are going to be as haunted by this as by '2666'.
Review by Voise15
16/06/2015
Fantastical, semi-autobiographical road trip in search of literary immortality but ultimately tinged with pathos. Full of life, comical and a beautiful cast of the most wierd and wonderful friends and rivals. Truly brilliant.
Review by Praj05
16/06/2015
How to solve the Savage Detective riddle?

Three visceral realists, an abused prostitute, a sphinx-like poet and a hounding masochistic pimp. Savage Detectives is a segmented nostalgia of barefaced narratives, miscellaneous testimonies and a thrilling road trip. It comes across as an intricate brainteaser that has passed the test of time by how artistic and diagnostically zealous youth can be. This is my third Bolano manuscript and I dearly yearn to pen an Ode to this bohemian soul. However, conferring that privilege to Thomas Pynchon after Mason & Dixon seems a better prospect.

1.The most important thing about riddles are that they are meant to be tricky. The best plan is to break it into manageable chunks.

Juan Garcia Madero, initiates with personal journal entries on his path to the mysterious visceral realist underground poetic society head by Lima and Belano, boycotted commercial poets or "sold out peasant poets". Madero comes across as a typical bemused teen, dropping out of law school to pursue his literary passions with knack of memorizing every damn poetic definition. From what it seems like his entry into the realists clique, Madero was rather happy fucking Maria Font, Rosario and Lupe more than his poetic aspirations.
The authentications of witnesses spanning from 1976 to 1996, travels through three continents depicting the oddities and escapades of Lima and Belano encompassing an enormous second section. It gets irksome at time since most of the characters and testimonies overlap at regular intervals.

2.Clear-cut clues can be deceptive. Therefore locate veiled clues, segregate them and analyze them individually to deduce the answer.

Who are these Visceral realists? A semi-mythic vague literary antiestablishment of youthful, muddled and oversexed poets with a purist school of thought raging against Mexico's dominant political monopoly over literature.
Cesárea Tinajero,an avant-garde elusive poet whose enigmatic works and illusionary poetry mesmerized the visceral realists bequeathing a god-like status. The book concludes in the arid dunes of Sonora desert casting a menacing gloom that creeps throughout the pages.

3.Think outside the box. What is easily perceived may be a futile termination.

It is an elegy of a dying art. Poetry is on the verge of literary oblivion. A constricted yet revolutionary form of prose over years has failed to garner appreciation at large. Bolano himself clarified his move to writing fiction from poetry as he felt responsible to financially securing his family. The eccentric and adventurous portrayal of Lima and Belano espoused the ordeal of poetic realism in a politically charged milieu and ideas that flutter from the minds of desperate adolescent readers.

"O Captain!My captain". Be wise not stupid, says John Keating in 'Dead Poets Society'. Ever wondered what happened to the group after graduation? Every youthful aspiration fades in time. The secret societies, drama clubs at schools, literary cliques at the universities disintegrates when the desperate intellect dissolves in monetary overtures Youth is defrauding. Yes it is indeed! It nurtures delusions of power, pompous self-assuring probabilities of achieving the impossible and spurning a web of reckless endeavors that seem utterly tempting. It is a phase to be fearless with i-give- a-damn-to-authoritative fuckers-and-screw-fucking-rules stance. And we still crave it.

"The whole visceral realist thing was a love letter, the demented strutting of a dumb bird in the moonlight, something essentially cheap and meaningless."

Required tools:
Well-oiled grey cells.
Patience and adherence to Bolano's flurry of intertwined mysteries.

Caution:
If overwhelmed with Part II of the volume either hurl choicest abuses whilst gaping at the book or a caffeine overdose. Both seem to work fairly well.

Quick tips:
Meticulously follow Juan Garcia Madero. Overlooking a couple incidents in between would not hurt either. Who said there were rules to read a book? The only way to decipher a Bolano cryptogram is to stalk the grungy, over-sexed character all the way through the plot for the bozo will certainly get fucked where it hurts the most.