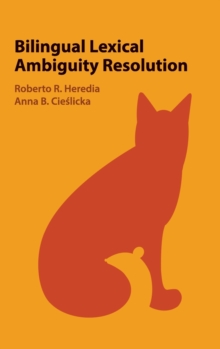 Bilingual Lexical Ambiguity Resolution
Hardback
Description
This book provides students and researchers of bilingualism with the most recent methodological and theoretical advances on how bilinguals resolve ambiguous information across languages.
With reports on the latest findings from the behavioral and neuropsychological fields, the authors survey the latest research into bilingual language-system modelling and bilingual lexical ambiguity processing.
Each chapter looks at bilingual ambiguity resolution both at the word and sentence levels, explaining how bilinguals ultimately comprehend ambiguous information arising from languages they already know.
This volume not only explores enduring theoretical questions in bilingual research, such as bilingual representation and language processing, but also evaluates the extent to which the existing bilingual models can satisfactorily account for the most recent research findings.
Information
Format: Hardback
Pages: 342 pages
Publisher: Cambridge University Press
Publication Date: 02/01/2020
Category: Bilingualism & multilingualism
ISBN: 9781107145610