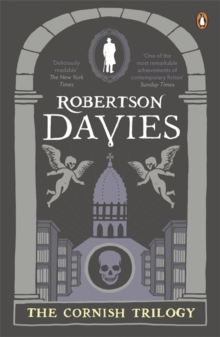 The Cornish Trilogy : What's Bred in the Bone; The Rebel Angels; The Lyre of Orpheus
Paperback
Description
The University of St John and the Holy Ghost (known affectionately as Spook) has a problem - and an opportunity.
Strange, eccentric art patron and collector Francis Cornish has died and faculty members have been made executors of his complicated will.
But in the realization of their duties, they find themselves drawn into Cornish's bizarre, secretive and mystical world.
In this spellbinding trilogy a host of memorable characters - defrocked, mischief-making monks, half-mad professors, gypsies and musical geniuses - become entangled in a story that involves theft, perjury, scholarship, murder, love, and the squandering of plenty of cash.
Information
Format: Paperback
Pages: 1152 pages
Publisher: Penguin Books Ltd
Publication Date: 01/07/2011
ISBN: 9780241952610
Free Home Delivery
on all orders
Pick up orders
from local bookshops
Reviews
Showing 1 - 2 of 2 reviews.
Review by Jannes
16/06/2015
The Rebel angels: Almost every aspect is spot on. It has amazingly rich and deep characters, and each one is interesting and captivating. It's description of academia in all it's gloy and pettyness and everything in between is at least equal to every other depiction I've ever read. The plot is expertly paced, and I even actually enjoyed it when the character's deiscussed morale, philosophy, religion, and whatnot for - something I'm usually very sceptical about. I abolutely loved this novel.Until the last twenty pages or so... (minor spoilers ahead, I guess. If you're one of those that cares about such things). I just don't get the ending. Is marriage suddenly that important that you have to drop it from the sky like that? Is it impossible to have an even semi-happy ending withour marital bliss? And what is Davies trying to say, exactly? that the young'uns got it all backwards, and the only proper way to do int is to be medieval-style conservative in your relationships? I honestly don't think so, but then Iagain I don't know what to think. It completely derailed me. Maybe I missed the point all along. But oh, how enjoyed the rest of it. So much that the ending doesn't matter that much, in fact. It has been a while since I hadsuch pure enjoyment from a novel, and that's saying something.
Review by denmoir
16/06/2015
What can you expect from Robertson Davies? Generalities discussed in great detail, erudition, irony and surprise. The Cornish trilogy delivers it all.In The Rebel Angels I particularly like the character of John Parlabane, an appalling person, clever beyond challenge in everything but what is essential where his folly is tremendous. The alternation of two narrators, Maria and Simon is enables those characters to be observed and to observe simultaneously.What's Bred in the Bone is more conventionally structured and puts Francis Cornish centre stage in the definite role of hero. His very interesting history explains why he is referred to as an oddity in the first book where he is merely a device to bring the others together.The Lyre of Orpheus is, I think, the best of the three. It rounds the circle, pulling the first two books together tightly and very satisfyingly.