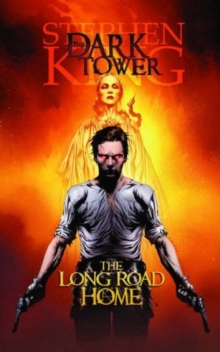 Dark Tower: The Long Road Home
Hardback
Illustrated by

Jae Lee
Information
Format: Hardback
Pages: 160 pages, 1 Illustrations, unspecified
Publisher: Marvel Comics
Publication Date: 15/10/2008
Category: Superheroes
ISBN: 9780785127093
Free Home Delivery
on all orders
Pick up orders
from local bookshops
Reviews
Showing 1 - 4 of 4 reviews.
Review by sweetiegherkin
16/06/2015
This graphic novel picks up where the previous The Gunslinger Born left off. Roland and his friends are traveling back home to Gilead with a posse from Hambry hot in pursuit. Unfortunately, at the beginning of their journey, Roland is sucked in the bizarre world of Maerlyn's grapefruit, where he is tormented by old and new foes. Meanwhile, Alain and Cuthbert struggle to bring the comatose Roland home while facing a myriad of obstacles. Therefore, this story is more about getting into the psyches of Alain and Bert than anything else. The story is only so-so, although I'll admit it sucks you in (much like Maerlyn's grapefruit!), and you won't want to put it down until you've finished. The illustrations are once again remarkable, with three-dimensional realness and beautiful coloring.
Review by readafew
16/06/2015
The Long Road Home continues the tale of Roland and his ka-tet as they find Susan's charred remains and try to evade the pursuit of Farson's men. They survive to get home with Maerlyn's Grapefruit, only to find more trials. This series is interesting and I still haven't read any of King's Dark Tower novels. As a comic series I think I'd find this a little slow and lacking in story, but since I'm reading them in the combined 5-6 comic sets it hides this somewhat. I liked the series, the artwork is incredible. This is a fairly gruesome and gritty bit of artwork so not for the squeamish.
Review by Daniel.Estes
16/06/2015
The Long Road Home treats us to more original material as compared to its predecessor, The Gunslinger Born. In the Dark Tower book series (from which this comic book series is based on), Roland, Cuthbert and Alain's journey from Mejis is mentioned only in passing, as are the major plot hooks (Sheemie's powers, Roland succumbing to the glam of Maerlyn's Grapefruit), but here the individual moments are fleshed out in better detail with some new revelations.We know so little about Roland's tet-mates (his friends, say thankya) that having much of the story told from Alain and Cuthbert's perspective is a welcomed addition. The narrative is a little thin, but that's okay because it's sandwiched between two larger tales. And the professional panel artwork is breathtaking, as I come to expect.
Review by krau0098
16/06/2015
This is the 2nd book in the Dark Tower graphic novel series. There are a total of eleven books in this series. I didn't like this book quite as much as the first book, but still really enjoyed the illustration throughout.Roland, Cuthbert, and Alain are fleeing the Big Coffin Hunters in an effort to get home in one piece. However when Roland's mind gets taken over by the big grapefruit-like globe that they stole from the Coffin Hunters he goes on a strange metaphysical journey of sorts. Meanwhile while Roland is off in lala land the rest of the ka-tet is struggling to escape from both the Big Coffin Hunters and other strange beasts. Additionally we follow Sheemie's story as he gets a bit lost and undergoes horrible torture to gain great power.This book was a bit more scattered than the first one. We alternate between Roland, Sheemie, and Cuthbert/Alain. While some interesting things happen in this book I missed Roland and would have liked to see more of him in this story.We do get to meet the Crimson King which was intriguing (and kind of disturbing). This almost seemed like a transitional volume; like it was setting up things for the next part of the story. However, after the first book the story in The Long Road Home seemed a bit anti-climatic.I continue to really enjoy the illustration throughout. I love colors and the detail in the illustration.Overall I enjoyed this second installment in the Dark Tower graphic novel series. The whole thing has this very fantasy post-apocalyptic western feel to it that I really enjoyed. I do think that this installment was a bit weaker than the first one. I would definitely recommend this graphic novel series to those who enjoy gritty fantasies.