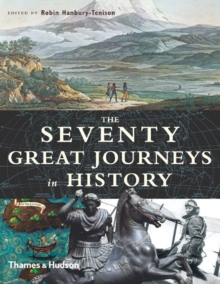 The Seventy Great Journeys in History
Hardback
Description
From the migrations out of Africa by our earliest ancestors to the latest voyages into space, an incredible team of historians, travellers and explorers brings to life seventy of humanity's most remarkable journeys.
With hundreds of evocative photographs, paintings, illustrations and portraits, plus specially commissioned maps, this volume is for everyone who is fascinated by the stories and personalities of those who were there first, who explored the unexplored and who set out into the unknown, bringing alive the romance and sheer thrill of travel in a way no book has done before.
Information
Format: Hardback
Pages: 304 pages, 420 illustrations, 331 in colour
Publisher: Thames & Hudson Ltd
Publication Date: 28/09/2006
Category: General & world history
ISBN: 9780500251294
Free Home Delivery
on all orders
Pick up orders
from local bookshops
Reviews
Showing 1 - 1 of 1 reviews.
Review by Africansky1
16/06/2015
The Seventy Great Journeys in History is a Thames and Hudson 2006 heavy format , hardcover publication aimed at the large arm chair traveller class of reader able to sit back and balance a book weighing all of three kgs on the knee with a cup of coffee or the Travellers G and T alongside , engaging with the many courageous and sometimes foolhardy explorers of the past. The book is printed in China and is a companion volume in a series of a large number of seventy mysteries, wonders, inventions and battles . Seventy seems a tidy number but why is seventy the magic number and there are more than 70 explorers between these covers. A great journey is one that is epic and changes our knowledge of the planet . The subjective question is who has had the most significant effect on our understanding of the planet? There is also another dimension of who did what first and got into print first to claim a place in history. The first two chapters are really a romp through man's migration across the world from African origins. It is indeed a beautifully produced book with over 400 illustrations most in colour . There are maps for every journey. The book is edited by Robin Hanbury-Tenison , a well known explorer and writer in his own right , and he contributes the essay on one of very few women Travellers, Maria Sibylla Merian who in 1699 went to Surinam to gather plant and animal specimens . The book has the feel of an anthology with 52 contributors in total and structure is chronological rather than geographical . The inclusion of the modern era extends human exploration to ocean depths and the far reaches of space. Today their are new kinds of frontiers in science . Paging through this volune makes one realise how far mankind has travelled in his history . The writing overall is of a high quality but sometimes you are introduced to a new person only to find its a morsel of information. Ippolito Desideri , a Jesuit Missionary, undertook an arduous journey from Ladakh to Lhasa in 1715 but died before he published his four volumes back in Rome . His work and accomplishments remained lost until rediscovered in modern times . He was "just a footnote in history" . The most fascinating journeys are those which were undertaken by individuals who went on to write and publish their travels . The lesson to be drawn by any Explorer is to write, to publish and to have the media world behind you. The book is a good introduction to well known and lesser known Travellers , though focus is on journeys rather than individuals and that is where it's weakness lies as the journey is made by the traveller and serious student of exploration will want to read the originals . This book fits with any library on exploration and travel and is a pleasure to own .
Also by Robin Hanbury-Tenison | View all