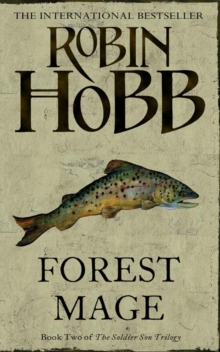 Description
The second book in the brand new trilogy from the author of the Tawny Man trilogy, following on from the bestselling Shaman's Crossing.The King's Cavalla Academy has been ravaged by the Speck plague.The disease has decimated the ranks of both cadets and instructors, and even the survivors remain sickly.
Many have been forced to relinquish their military ambitions and return to their families to face lives of dependency and disappointment.As the Academy infirmary empties, Cadet Nevare Burvelle also prepares to journey home, to attend his brother Rosse's wedding.
Far from being a broken man, Nevare is hale and hearty after his convalescence.
He has defeated his nemesis, Tree Woman and freed himself of the Speck magic that infected him and attempted to turn him against his own people.
A bright future awaits him as a commissioned officer betrothed to a beautiful young noblewoman.Yet his nights are still haunted by dreams of the voluptuous Tree Woman, dreams in which his Speck self betrays everything he holds dear in his waking life.
Has the plague infected him in ways far more mysterious than the merely physical?Despite his fears, Nevare will journey back to Widevale in high spirits, in full expectation of a jubilant homecoming and a tender reunion with his beautiful fiancee, Carsina.
But his life is about to take a shocking turn, as the magic in his blood roars to life and forces him to recognize that his most dangerous enemy, an enemy that seeks to destroy all he loves, might dwell within him.
Information
Format: Paperback
Pages: 400 pages
Publisher: HarperCollins Publishers
Publication Date: 01/07/2007
Category: Fantasy
ISBN: 9780007196173
Other Formats
EPUB from £5.74
eAudiobook MP3 from £21.59
Free Home Delivery
on all orders
Pick up orders
from local bookshops
Reviews
Showing 1 - 4 of 4 reviews.
Review by narikui
16/06/2015
Sigh. Unfortunately this book was mired in repitition. It seemed like the main character would figure something out on page X, then AGAIN figure it out on page X+20, ad naseum. The inherent plot was not that bad, I just think we could have cut out around 200 pages..
Review by lewispike
16/06/2015
Another book in this series I find it really hard to review. The story is fairly straightforward, indeed often rather predictable, I just struggle with too many of the characters.We're supposed, fairly obviously, and if we don't get the idea, it's spelt out several times, to believe that the magic alters people around Nevare to get him to the end of the road so he can save the Specks. This might be plausible, but we don't really see and understand enough of the characters that we need to to see this as a change - it just seems random and frankly poorly written.However it happens, Nevare gets there and... vacillates some more. In his defence he protests that the magic never tells him what he should do. This is fair comment, we see everything else and not that, and he's right. There is, in the penultimate chapter a comment that if he'd done the right thing and joined the Specks he'd have been fed right and maybe it would have been OK. Perhaps that's true.He changes so abruptly between lots of magic, save the People, the forest is great, and must do my duty, must be a soldier and back it's frankly dizzying. It's quite clear that Nevare is meant to be showing the tug between his old life and dreams and the life the magic wants for him, but ARGH he needs to commit one way or the other.DESPITE all this, there are good points. There are times he's a likable, honourable fellow in both codes, more or less. His relationship with Amzil is nicely drawn out and works because of the rough bits the missteps and all the rest.No idea if I'll bother with book 3 though and that's a shame. I'm guessing I will, just because I want to see how's it finally all finished.
Review by xicanti
16/06/2015
I've gotta say, I'm <i>hella</i> disappointed.This was a decent book. That's all. It wasn't breathtaking or engaging or mindblowing, or anything else that Hobb's books usually are. There were a few stunningly beautiful moments where I felt for Nevare with every fibre of my being... but they were too few, and there was far too much Other Stuff between them. In the end, this was just a book about a guy who had some magically-motivated problems.Hobb opens with summary. Pages and pages of summary. We hear, once again, exactly what happened in <i>Shaman's Crossing</i>. Having finished the book the night before, I found this tedious. And then, just as things were starting to pick back up, Hobb shifted the tone completely. This was no longer the book I'd expected to read, and the transition was completely jarring. Nevare doesn't undergo a slow change; instead, his world flips upside down overnight, with minimal buildup. I didn't feel like it was handled well at all. It shook me straight out off the story and made it difficult to sink back in.As was the case with the first book, I had trouble figuring out just what I should be rooting for here. Did I want Nevare to regain his former physique, get a swank commission and marry some vapid bimbo? Not really... but <i>he</i> wanted it so badly that I thought perhaps I was way off-base. Did I want him to give in to the magic and betray his country, then? Again, not really. I'd have been disappointed in either outcome I sort hoped he'd find a happy medium between the two, but I didn't really have enough invested in it - or in him - that I read on at a frantic pace, desperate to see how things would turn out.Instead, I plodded along. I read perhaps ten pages over the weekend. I couldn't seem to read quickly once the next week came. I just wasn't engaged. With the exception of those few moments I mentioned above, I just couldn't care enough about Nevare to devote my time to this book. Even the world became considerably less engaging as Hobb moved away from the gorgeously depicted upper classes into a rather pedestrian poor sector and a sketchily described forest culture. Blah.The book does have some good points, though. Nevare finally makes some progress on a personal level, and his ethnocentrism fades slowly and organically in response to his experiences on the frontier. The food writing is phenomenally good; it made me want to cook! I personally feel that romance is one of Hobb's weak points, but I do like how she dealt with the one herein. And there really are some beautifully realized scenes in which Nevare's whole world just crashes into the reader like a ton of bricks.But in the end, that wasn't really enough to redeem the book. I can't say as I'm really looking forward to the next one now. I normally prefer to read Hobb's books back to back, but I'm just not sure if I can launch straight into <i>Renegade's Magic</i>.
Review by wyvernfriend
16/06/2015
Nevare Burvelle has survived the Speck plague that has decimated the ranks of the King's Cavella Academy. He starts to gain weight, without him actually trying. When he returns home to his family home to attend his brother's wedding he finds nothing but condemnation and a letter following him stating that he has been thrown out of the Academy due to this weight gain. This throws his father into a rage that cascades for Nevare, almost killing him. The story is quite interesting but from time to time there was almost too much information and I just wasn't quite engaged enough to care deeply about some of the characters. I'm looking forward to book 3 in the series to see how this resolves.
Also in the The Soldier Son Trilogy series | View all