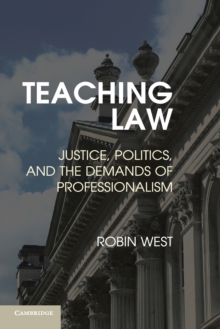 Teaching Law : Justice, Politics, and the Demands of Professionalism
Paperback / softback
Description
Teaching Law re-imagines law school teaching and scholarship by going beyond crises now besetting the legal academy and examining deeper and longer-lasting challenges.
The book argues that the legal academy has long neglected the need to focus teaching and scholarship on the ideals of justice that law fitfully serves, the political origins of law, and the development of a respectful but critical relationship with the legal profession.
It suggests reforms to improve the quality of legal education and responds to concerns that law schools eschew the study of justice, rendering students amoralist; that law schools slight the political sources of law, particularly in legislative action; and that law schools have ignored the profession entirely.
These areas of neglect have impoverished legal teaching and scholarship as the academy is refashioned in response to current financial exigencies, and addressing them is long overdue.
Information
Format: Paperback / softback
Pages: 252 pages
Publisher: Cambridge University Press
Publication Date: 18/11/2013
Category: Legal skills & practice
ISBN: 9781107678194