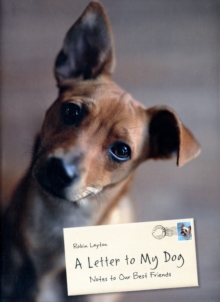 A Letter to My Dog : Personal Notes from Humans to Their Pups
Hardback
Description
Dogs know how to talk to us; they do it all the time.
A pair of raised ears or a wagging tail can speak volumes to those in the know.
In this heartfelt ode to the furriest of family members, dog lovers get the chance to say something back, sharing personal letters, penned to their companions.
With gorgeous accompanying photographs by Robin Layton, this collection of letters and portraits features a wide range of dogs and their owners, including everyday people with remarkable stories as well as celebrities like Hilary Duff, Tony Bennett and Oprah Winfery alongside their pooches.
Throughout, these tales of perseverance, love and loyalty celebrates the deep and devoted friendships that humans share with their pups.
Information
Format: Hardback
Pages: 180 pages, Illustrations
Publisher: Chronicle Books
Publication Date: 01/10/2012
Category: Dogs as pets
ISBN: 9781452114422