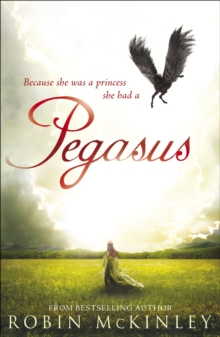 Description
The first book in a magical two-part tale of fantasy and friendship ...On her twelfth birthday, Princess Sylviianel is ceremonially bound to her own Pegasus, Ebon.
For a thousand years humans and pegasi have lived peacefully in the beautiful green country beyond the wild lands.
They rely on human magicians and pegasi shamans as their only means of real communication - but not Sylvi and Ebon.
Their friendship is like no other...They can understand each other. But as their bond grows more powerful, it becomes dangerous - could their friendship threaten to destroy the peace and safety of their two worlds?
Information
Format: Paperback
Pages: 416 pages
Publisher: Penguin Books Ltd
Publication Date: 01/07/2011
Category: Fantasy
ISBN: 9780141338095
Free Home Delivery
on all orders
Pick up orders
from local bookshops
Reviews
Showing 1 - 2 of 2 reviews.
Review by RefPenny
16/06/2015
In the land where Princess Sylviianel lives, humans and pegasi coexist peacefully despite the difficulties in communication between the races. When Sylvii is, upon her 12th birthday, bonded to a pegasus, they discover they can communicate telepathically. But their close relationship leads them to break the rules and causes some disquiet. The story is not action-packed but rather a depiction of the pegasi society and the relationship between Sylvi and her pegasus, Ebon. This is the first book in a series and unfortunately (given the ending) the next book isn't due till 2014. It would mainly appeal to teen girls who enjoy fantasy.
Review by wyvernfriend
16/06/2015
On her twelfth birthday Princess Sylviianel (Sylvi) is ceremonially bound to her own pegasus Ebon. Only this binding is different and they can communicate, better than has been the case for many centuries, a way of communicating that has only been whispered at. This changes things and Sylvi is at the eye of the storm.Gah, want book 2 NOW! For all sorts of spoilery reasons, not only because I got pretty invested in the characters and wanted them to succeed (or not) and I'm now really curious about a lot of the background of the relationship between the Pegasi and their humans and how things have come to be the way they are.