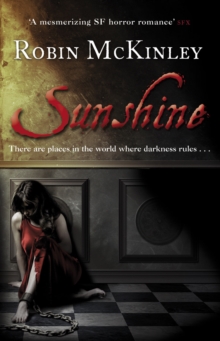 Description
There are places in the world where darkness rules, where it's unwise to walk.But the lake had been quiet for years. . . .She never heard them coming. Of course you don't, when they're vampires. They took her clothes and sneakers. They dressed her in a long red gown. And they shackled her to the wall of an abandoned mansion - within easy reach of her fellow prisoner.
She knows he is a vampire. She knows that she's to be his dinner, and that when he is finished with her, she will be dead.
Yet when dawn breaks, she is still alive. And now he needs her to help him survive the day...
Information
Format: Paperback
Pages: 480 pages
Publisher: Transworld Publishers Ltd
Publication Date: 01/10/2004
Category: Fantasy
ISBN: 9780553815832
Free Home Delivery
on all orders
Pick up orders
from local bookshops
Reviews
Showing 1 - 5 of 10 reviews.
Previous | Next
Review by wyvernfriend
16/06/2015
Fun young adult vampire novel and I hope the author writes more in this vein.
Review by deargreenplace
16/06/2015
A very good read, all the more so because I didn't realise it had a fantasy element until I started reading (give or take the vampires). The author creates a world that has a lot of potential for further books, and the character of Con was mysterious and intriguing and rather appealing if I may say so. I'm not so sure what McKinley was trying to do with the Sunshine character though, and I kept thinking about how closely her relationship with Con echoed that of Buffy and Angel. Also, there were a few sentences that didn't seem to make sense in proper English, though they may well be common usage in American language. There was also a bizarre paragraph in the middle of the book that seemed to have escaped from a dodgy erotica novel - call me a prude, but I hate seeing the C word in print, and it was out of sync with the rest of the book.Minor gripes though - it was a page-turner and I would recommend it to vampire fans.
Review by hagelrat
16/06/2015
It's not a typical vampire novel, it's not a typical anything novel really, but it's well written, well thought out and enticing. Sunshine is cheif baker at a coffee house and the first chapter essentially gives us a feel for how her life normally is, as well as explaining how she came to be out on her own to get grabbed in the first place. Our heroine is not brave or brilliant or sassy, she's just a baker, who's genes are about to come to the fore under extreme circumstances. This is definately not paranormal romance, it's a horror, maybe with a foot in urban fantasy. It's not especially scary but it is dark and tense at times and I found myself wondering if anyone might make it out alive (not telling).A quick glance at the authors website suggests she usually leans to Dragons and fantasy, but I shall be having a good long look to see if there is anything more along this vein from McKinley.
Review by JessicaLouise23
16/06/2015
Sunshine (Rae) has spent her life trying to be normal - Well as normal as it can be in a world full of vampires, sorcerers, were's and other creatures that go bump in the night. Despite coming from a strong powerful family of sorcerers Sunshine just wants a normal life baking cinnamon rolls in her family's coffeehouse. Despite her attempts to live a normal life Sunshine is soon flung into the other world when she's kidnapped by a gang of vampires and finds that she's to be dinner for her fellow vampire prisoner Constantine. It soon becomes clear that if they both want to get out alive they'll have to form an unlikely alliance to escape Constantine's enemy Bo who keeps them imprisoned and Sunshine will have to use her supernatural sorcerer powers that she's been trying to deny having all these years. The rest of the story follows Sunshine's development of her powers and her forbidden alliance with Con to defeat the master vampire Bo.First things first I'd like to say that I love a good vampire novel. Was this a vampire novel? Me thinks not. The vampires in question hardly feature, and when they do there is little action. I really enjoyed the start of this novel but the rest of the book I found really quiet boring which is probably the worst thing a book can be. There was little action and the middle of the book was filled up with Rae's constant unnecessary babbling. The ending was left really unfinished with a lot of questions still unanswered which would leave a great opening for a sequel but after looking on Robins website it says she has no plans and doesn't intend to write a sequel which is really quiet bazaar with the way the books set up. However there were parts of the novel I enjoyed very much. I liked the idea of the voodoo wars and I enjoyed learning about Rae's power.I really had high hopes for this novel as I've heard a lot of good things about Robin McKinley. I'll probably try something else by her in the future but I definitely won't be re-reading this and I won't be recommending it!
Review by elliepotten
16/06/2015
I'd heard good things about this one - that it was dark and exciting and just a little bit spicy to boot. I've never read an out-in-the-open vampire fantasy novel before (as opposed to one where no one even knows they exist, like 'Twilight') so that was quite novel for me. And I liked it! It took a chapter or two for me to start to settle into the world McKinley has created, a world riddled with vampires and demons and Weres, in the aftermath of a nasty war between humans and Others. But it was 'normal' enough not to push the fantasy too far, and McKinley's narrator, the Sunshine of the title, explains many of the little facets of magical life that the reader isn't familiar with. Soon enough I'd sunk right into the story and then I was away!The basic plotline is that Sunshine, a bakery girl at her family's coffeehouse, drives out to her family's old lake house one night and is captured by a band of vampires. They dress her in a long red dress, drag her to one of the deserted lakeside mansions, and shackle her to the wall in the old ballroom as a tasty temptation for their other prisoner: a vampire enemy of their master. It will take an unlikely alliance and a whole lot of courage and unexpected strength to get themselves out alive and survive the vampires' wrath at their miraculous escape.I did think maybe the chemistry between Sunshine and Con could have been a little, well, hotter; every time she starts to look sideways at him she seems to hastily remind herself - and therefore the reader - how repulsive vampires are, and it kills it stone dead! But other than that, I was completely absorbed and enjoyed it thoroughly. I'll be looking for more of McKinley's books in the future.