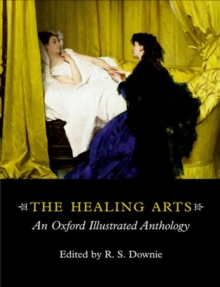 The Healing Arts : An Oxford Illustrated Anthology
Paperback / softback
Description
Medicine and the arts have in common a concern for all aspects of people's lives.
This delightful anthology celebrates the many ways in which they interact.
Robin Downie has mixed together a rich concoction of poems, stories, prose extracts, music, paintings, and drawings which illustrate the fundamental issues of birth, life, and death. From reviews of the hardback edition The best presents are often those you want to buy for yourself and part with only grudgingly. The Healing Arts falls headlong into this class. New Scientist This book is really much better than any anthology has a right to be... remarkably handsome: large format, good paper, spacious layouts, colour plates, and photographs... but the most striking aspect is the quality and variety of the selected items, and the way inwhich they flow and are mutually reinforcing.' Journal of the Royal College of Physicians of London ' a splendid anthology ...
Downie's anthology is interesting, varied ... and fun to dip into.' The Lancet Here's some cultural diversion for anyone on the mend from the surgeon's knife or fighting illness, or indeed for the hypochondriac. Read Betjeman on nurses, Larkin on ambulances, and C S Lewis on grief. And more in the same vein.' Focus ... a delightful collection of poetry, essay, and musical score, punctuated by carefully selected drawings and paintings. It is undoubtedly a delightful gift for almost anyone in medicine, and a goodly number outside the profession. British Journal of Anaesthesia He has compiled a beautiful and inspiring collection of poems, drawings, paintings, cartoons, music andexcerpts from books and journals to give pleasure, to heal and inform, and to "stretch the imagination, deepen the sympathy and enrich perspectives" ...
It superbly fulfills Downie's goal of bringing pleasure, stretching the imagination, and deepening sympathy.
I strongly recommend it to those of you who value the arts andhave some association with the medical profession. The Medical Humanities Review This book is a gem which will have wide appeal....
It breaks new ground in using art, prose and poetry to explore interactions between medicine and the arts. Journal of Medical Ethics
Information
Format: Paperback / softback
Pages: 352 pages, numerous black and white photographs
Publisher: Oxford University Press
Publication Date: 01/09/2000
Category: Art & Photography
ISBN: 9780192632579
Free Home Delivery
on all orders
Pick up orders
from local bookshops