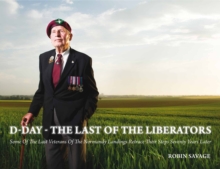 D-Day - the Last of the Liberators : Some of the Last Veterans of the Normandy Landings Retrace Their Steps Seventy Years Later
Hardback
Description
The commemoration of D-Day holds a special place in the hearts and minds of the British people.
Each June some of the last remaining veterans make the journey back to Normandy, with its memorials and the spine-tingling tranquility of the war cemeteries, there to remember those who never came home.
D-Day: The Last of the Liberators is a collection of portraits of some of the last surviving Normandy veterans.
It records in a unique way the stories of these remarkable individuals and their emotional but dignified return to the locations, in many cases the exact spot, which are tied to their most profound personal memories of the campaign; places where they saw action or were wounded, where they experienced instances of miraculous chance or where they witnessed their friends being taken away from them through the horror of battle. The significance of these photographs cannot be overlooked.
As time takes its toll, fewer and fewer veterans make the journey back to Normandy.
The 70th anniversary in 2014 will mark the end of the Normandy Veterans Association. After the commemorations, the association will close its doors; its branches will wrap up and all but the private pilgrimages to the beaches will end, eventually leaving the duty to remember those fallen comrades to their descendants and the wider population of a still grateful nation. This is not an account of the strategic challenges of carrying out the Normandy landings, nor the story of a battalion or company embroiled in its own struggle for survival.
Those accounts exist and their value is enormous. This book is different: it focuses on the individual and is a record of the experience at the most personal level, viewed with the benefit of seven decades of perspective. These photographs, taken during the 68th and 69th anniversaries, are a record of some of the final visits these brave and dignified men and women will make to the places that imprinted themselves indelibly on their lives. It makes the link, so easily lost, between the young people who faced those challenges and the individuals they became through those experiences - and who went on to rebuild a shattered world with the conviction that it must never happen again. The subjects of D-Day: The Last of the Liberators are the representatives of this remarkable generation, their stories told in the accompanying text, but etched on their faces as they are confronted, perhaps for the final time, by stark memories from a haunting past. These portraits are a thank you to the British veterans of D-Day, because they risked so much to give us the lives and freedom we enjoy today.
Information
Format: Hardback
Pages: 96 pages, Colour photos throughout
Publisher: Helion & Company
Publication Date: 15/04/2014
Category: European history
ISBN: 9781909982314
Free Home Delivery
on all orders
Pick up orders
from local bookshops