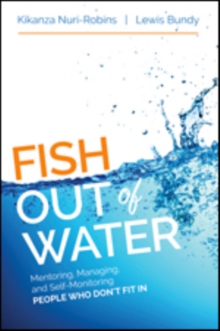 Fish Out of Water : Mentoring, Managing, and Self-Monitoring People Who Don't Fit In
Paperback / softback
Description
Are you creating Fish Out of Water in your environment?Oftentimes a group demands compliance with cultural codes and behavioral expectations that are never taught.
Instead, the standards of this hidden curriculum are used to justify punishing, marginalizing, and excluding children and adults from the dominant culture.
This book focuses on the need for and the strategies to create inclusive classrooms and organizations. What do you do when you are the one who doesn't fit in?Fish Out of Water are those who don't fit in the mainstream culture because they are too different from the dominant groups.
This book offers tools for decoding cultures-moving from code switching to code sharing.
Included are:Compelling portraits of fish out of water who have learned to survive and thrive in schools and other organizationsStrategies for working with children who are targeted and bullied because they are differentFor every one who has been or knows how it feels to be a Fish Out of Water, this book will help you to flourish where you are, mentor others who are different, and manage the dynamics of difference as you create a culturally proficient organization. WHAT PEOPLE ARE SAYING:"Fish Out of Water is a great resource for navigating ponds that suffocate the marginalized with dominant norms and values.
Linking Cultural Proficiency to decoding an environment provides more tools for code switching, code sharing, and conversations about making students and families feel welcomed, included, and safe in our schools." -Angela Ward, Office of Cultural Proficiency & InclusionAustin Independent Schools, TX"This book made me think.
It is a courageous attempt at the difficult subject of who 'doesn't fit' into the spaces and places we inhabit-and why.
But the most valuable part of this book is that it describes what we can do about making our schools, workplaces, and communities more inclusive, and ultimately more effective." -Nicki King, Reducing Mental Health Disparities ProjectUniversity of California, Davis
Free Home Delivery
on all orders
Pick up orders
from local bookshops