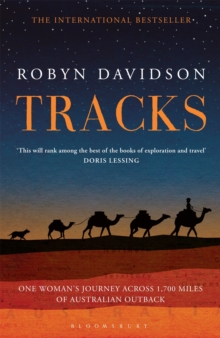 Description
Now a major motion picture starring Mia Wasikowska and Adam Driver'I experienced that sinking feeling you get when you know you have conned yourself into doing something difficult and there's no going back.' So begins Robyn Davidson's perilous journey across 1,700 miles of hostile Australian desert to the sea with only four camels and a dog for company. Enduring sweltering heat, fending off poisonous snakes and lecherous men, chasing her camels when they get skittish and nursing them when they are injured, Davidson emerges as an extraordinarily courageous heroine driven by a love of Australia's landscape, an empathy for its indigenous people, and a willingness to cast away the trappings of her former identity.
Tracks is the compelling, candid story of her odyssey of discovery and transformation. WITH A NEW POSTSCRIPT BY THE AUTHOR AND A STUNNING COLOUR PICTURE SECTION
Information
Format: Paperback
Pages: 272 pages, 8pp colour
Publisher: Bloomsbury Publishing PLC
Publication Date: 01/04/2013
ISBN: 9781408834862
Other Formats
EPUB from £7.19
Paperback from £8.65
Free Home Delivery
on all orders
Pick up orders
from local bookshops
Reviews
Showing 1 - 2 of 2 reviews.
Review by gypsysmom
16/06/2015
The movie made from this book came out this year. I haven't seen it yet because I wanted to read the book first. Davidson made the journey that this book covers in 1977 and, as she says in the postscript, it wouldn't be possible now. I found the journey fascinating but, for my taste, too much time was spent on the preparations for the trip.Davidson arrived in Alice Springs with her dog and six dollars and a plan to cross the western half of Australia with camels. Alice Springs, at that time, was a rough and tumble place and a woman alone was subject to much verbal abuse and sexual invitations. From the pictures in the book it is obvious that Davidson was good-looking with blonde hair and blue eyes. That probably attracted all the wrong kind of attention. Many times in her preparations she doubted herself and almost gave up. In the last paragraph of the book she writes "The two important things that I did learn were that you are as powerful and strong as you allow yourself to be, and that the most dfficult part of any endeavour is taking the first step, making the first decision." Eventually Davidson got three adult camels, two males and a female, and since the female gave birth shortly before the start of the trip there was also a calf along for the ride. Her dog, Diggity, also started out on the trip but, sadly, did not make it to the end. Davidson had an aboriginal elder guide her for a portion. She also had a photographer from National Geographic meet up with her along the way. However she did spend many days alone on the trek and discovered hidden strengths in facing adversity.Hope the movie will make it to DVD soon.
Review by Cheryl_in_CC_NV
16/06/2015
More than a travelogue, more than memoirs. Even though this presents to being more about her than the Bill Bryson I've read &amp; only somewhat about the places &amp; people, and camels, it ends up being much more illuminating of the settings &amp; context than his works which present as travelogues. <br/><br/>If you're not sure you want to read it, start at Chapter 10 (p. 193 in my edition) and read towards the end. I bet you'll want to get back to the beginning and find out more. One example of what got her across the desert: "I... had a reinforced concrete strip down my back which successfully hid the yellow one." <br/><br/>An example of how well she expresses what some people never learn: "In different places, survival requires different things, based on the environment. Capacity for survival may be the ability to be changed by the environment." <br/><br/>Short, but not really a quick read - too intense, almost spiritual (but not difficult or artsy-fartsy).