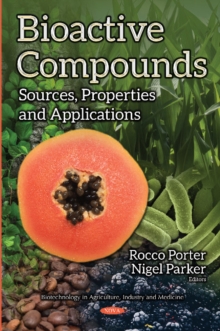 Bioactive Compounds : Sources, Properties & Applications
Hardback
Description
The study of bioactive compounds has received a considerable rising interest over the last three decades, given their biological activity as reported by scientific evidence linking these substances to the prevention of several types of diseases.
Chapter One is aimed at making a wide description of sources, properties and applications of bioactive compounds.
Chapter Two summarises content of bioactive compounds (antioxidants, polyphenols, flavonoids, phenolic acids, vitamins, mineral compounds and others) of adaptogenic plants, including antidepressant, antioxidant, anti-inflammatory, antimicrobial and anticancer activities, as well as their potential to prevent several disorders.
Chapter Three summarises and discusses the recent updates and progress made of so far on bioactive compounds from cyanobacteria and their therapeutic importance on human health.
The influence of various bioactive compounds present in plant systems on the dehydration process under thermal stress was investigated in Chapter Four.
Chapter Five reviews the scientific literature about the structure of PEs, as well as their natural sources and health effects.
Chapter Six focuses on the most recent articles about phenolic compounds, their sources, properties and applications.
The aim of Chapter Seven was to characterise the composition and antioxidant activity of new Brazilian Coffea arabica cultivars and correlate this information with the genetic background of the coffee plants and the sensory characteristics of the coffee brews.
Chapter Eight summarises and updates the current knowledge about the pharmacological properties of the naphthodianthrones hypericin and pseudohypericin and to discuss their main medical application photodynamic therapy in several areas.
In order to further highlight the importance of Brazil's fruitful diversity and its bioactive potential, a number of items related to Brazilian native fruits will be addressed in Chapter Nine, including their biomes of origin, composition of bioactive compounds and potentials, as well as their limitations and future prospects.
Chapter Ten discusses the benefits of using fruits containing bioactive compounds in whole wheat cookies, with particular attention to blackberries.
Information
Format: Hardback
Pages: 361 pages
Publisher: Nova Science Publishers Inc
Publication Date: 01/09/2017
Category: Biotechnology
ISBN: 9781536124187
Free Home Delivery
on all orders
Pick up orders
from local bookshops