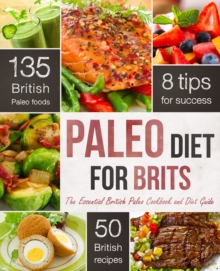 The Paleo Diet for Brits : The Essential British Paleo Cookbook and Diet Guide
Paperback / softback
Description
Starting a new diet can be hard, but learning how to eat your true diet is easy.
The Paleo diet is not just another fad diet; it is the diet humans were designed to eat. Also known as the Primal diet, the Caveman diet and the Stone Age diet, the Paleo diet has been around for as long as men and women have roamed the earth.
The Paleo Diet for Brits is a comprehensive guide to embracing the Paleo lifestyle.
Why postpone feeling healthy, losing weight and increasing your energy levels?
• 50 easy recipes cover breakfast, lunch, dinner, dessert and tasty snacks in-between. Enjoy Paleo-friendly versions of old and new favourite foods, with recipes such as Paleo Scotch Eggs, Quick Paleo Cock-a-Leekie, Spicy Chicken Masala Curry and Paleo Pear Cakes.
• 135 Paleo-recommended foods (and an extensive list of what foods to avoid) set you up for success in planning and shopping for your Paleo diet.
• 8 tips for success guide you through your transition to a Paleo lifestyle.
With The Paleo Diet for Brits: The Essential British Paleo Cookbook and Diet Guide, start enjoying the best health of your life today — all while losing weight and decreasing your odds of diabetes, hypertension, heart disease, cancer, osteoporosis and many other modern health maladies.
Information
Format:Paperback / softback
Pages:100 pages, Illustrations, black and white
Publisher:Callisto Media Inc.
Publication Date:21/05/2013
Category:
ISBN:9781623151614