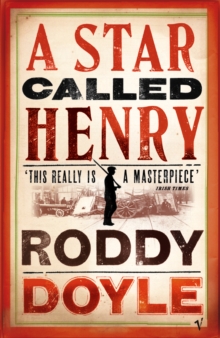 A Star Called Henry
Paperback
Description
Born in the Dublin slums of 1901, his father a one-legged whorehouse bouncer and settler of scores, Henry Smart has to grow up fast.
By the time he can walk he's out robbing and begging, often cold and always hungry, but a prince of the streets.
By Easter Monday, 1916, he's fourteen years old and already six-foot-two, a soldier in the Irish Citizen Army.
A year later he's ready to die for Ireland again, a rebel, a Fenian and a killer.
With his father's wooden leg as his weapon, Henry becomes a Republican legend - one of Michael Collins' boys, a cop killer, an assassin on a stolen bike.
Information
Format: Paperback
Pages: 352 pages
Publisher: Vintage Publishing
Publication Date: 01/09/2000
ISBN: 9780099284482
Other Formats
CD-Audio from £11.05
Paperback from £7.65
EPUB from £4.99
Free Home Delivery
on all orders
Pick up orders
from local bookshops
Reviews
Showing 1 - 5 of 5 reviews.
Review by Oreillynsf
16/06/2015
MY NAME IS HENRY SMART! It's a cry you will read over and over in this book, a childhood expression of someone trying to define his own identity in a society and a family that doesn't take him seriously. Henry's perspective on English Imperialism and the Irish Revolution is magnificent - his realizations about the corrupt nature of leading Irish heroes, and his recognition that as a footsoldier in the revolution he is simply hamburger to his leaders, must be a bit of a shock to Irish patriots. But on many levels it is less about ireland than the corrupting nature of power and adulation. I've read every word Doyle has published. But this one hit me like a ton of bricks. Powerful and poignant.
Review by edwardsgt
16/06/2015
This story covers a large part of Ireland's troubled history in the early 20th century, from the Easter Day rising in 1916 to the birth of The Republic in the 1920s. It is a clever mix of fact (Michael Collins makes several appearances) and fiction (Henry). It is a well-written novel with a seemingly accurate sense of time and place, with much amusing dialogue mixed in with the often violent actions of the hero and his associates. Not an easy read I found, but ultimately worthwhile.
Review by claret100682
16/06/2015
I like the way this was written, the quick dialogue and rich storytelling which I've enjoyed in Doyle's other books. I personally like books with a historical link, and it was an informative tale on the early days of the IRA. Skillful juxtaposition of humour and descriptions of violence/the grim streets of Dublin's slums, and a handful of memorable characters made the story quite compulsive, but I felt it trailed off a bit in the end.
Review by SqueakyChu
16/06/2015
Henry Smart, born in Dublin, is enraged from birth. He wants to be noticed and nurtured by his parents. His mother, too busy having other children, becomes heavily dependent on alcohol. His one-legged father is much too involved with his job as an occasional hit man and bouncer for a fancy brothel. As a very young child, Henry takes to living on the streets with his even younger brother Victor.The beginning of A Star Called Henry is reminiscent of how Frank McCourt describes childhood poverty in Ireland. The difference is that Henry Smart becomes infuriated by it. From the anger with which Henry is born to his developing philosophy of terrorism through his cold-blooded and feelingless executions, the story leaves the reader shuddering. At times it becomes hard to read because it presents the idea of a terrorist and murderer as protagonist. Doyle uses short clipped sentences and phrases to keep the action hopping along. Because the reader becomes so involved with Henry, it's difficult to know whether to root for him or against him. As in other Doyle novels, the author does a terrific job of capturing the flavor of Ireland as well as penetrating deep within an individual's psyche. Even if the reader lacks knowledge specifically about the Irish Rebellion, the turmoil of warring factions (and even factions within factions) is captured so well. Here is an engaging read not to be missed for any Doyle fan.
Review by Eyejaybee
16/06/2015
A few days ago I was faced with a choice. I could leave this book on the shelf in Waterstone's or i could buy it, take it home and read it.I chose poorly!