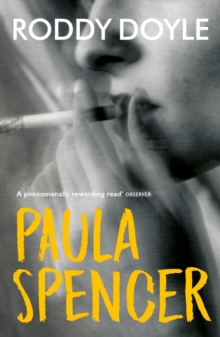 Description
When we first met Paula Spencer - in The Woman Who Walked into Doors - she was thirty-nine, recently widowed, an alcoholic struggling to hold her family together.
Paula Spencer begins on the eve of Paula's forty-eighth birthday.
She hasn't had a drink for four months and five days.
Her youngest children, Jack and Leanne, are still living with her.
They're grand kids, but she worries about Leanne. Paula still works as a cleaner, but all the others doing the job now seem to come from Eastern Europe, and the checkout girls in the supermarket are Nigerian.
You can get a cappuccino in the cafe, and her sister Carmel is thinking of buying a holiday home in Bulgaria.
Information
Format: Paperback
Pages: 288 pages
Publisher: Vintage Publishing
Publication Date: 01/07/2007
ISBN: 9780099501374
Other Formats
CD-Audio from £13.45
EPUB from £4.99
Free Home Delivery
on all orders
Pick up orders
from local bookshops
Reviews
Showing 1 - 3 of 3 reviews.
Review by Evablue
16/06/2015
I read "The woman who walked into doors" a while back and she's still with me - so I leaped at the opportunity to read the sequel. The story is still interesting as Paula struggles with her desire for a drink, her loneliness, the world changing around her, and worries about not being able to feel proud for her children - a subject that really intrigued me as it has crossed my mind more than once - however this time I can't hear Paula's voice. The dialogue may be engaging or funny at times, but the narration seems somewhat detatched to me. Perhaps it is intentional, showing Paula's own sentimental estrangement, but it deprives the novel of what I thought the best asset of "The woman..." . Too bad, I was so looking forward to this...
Review by elsmvst
16/06/2015
I didn't know what to make of this book. It was sad, sometimes a bit boring, I didn't like the style, but it was also fascinating. I read The woman who walked into doors, didn't really like that either, though I'm quite a Roddy Doyle fan. All in all, a bit of a disappointment.
Review by Vivl
16/06/2015
Overall I found this an excellent read, if just a step below the hands-down perfection of the first in the series. I enjoyed the blend of humour and soul-seeking and didn't even mind the endless hopping forward in time, which was a little disorientating at first.This is a gentler read than <i>The Woman Who Walked Into Doors</i>. Tension is maintained throughout but the threat, the level of danger, is not as immediate, hence the narrative doesn't get you by the throat quite the same way. The reasons for this are probably numerous, amongst them the absence of the obvious physical threat of Charlo. The third-person narrator also distanced me from the action. I missed the immediacy of Paula's first-person narrative. It seemed a slightly odd choice to replace that with a semi-omniscient third-person narrator while retaining Paula's overall "voice". Not sure how I'd have felt about this if I hadn't read the books in chronological order. I think it would have been confusing and I may not have developed the same emotional attachment for Paula and her family. Even thought it is just over 6 months since I first read <I>The Woman Who Walked Into Doors</i> I felt the need to go back and reread it before starting in on this one as the characters had receded into the background noise of what I fondly call my mind.I'm looking forward to going back and reading the "famous" Roddy Doyle novels now.