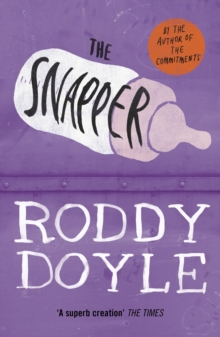 Description
Meet the Rabbitte family, motley bunch of loveable ne'er-do-wells whose everyday purgatory is rich with hangovers, dogshit and dirty dishes.
When the older sister announces her pregnancy, the family are forced to rally together and discover the strangeness of intimacy. But the question remains: which friend of the family is the father of Sharon's child?By the bestselling author of The Commitments, now a long-running West End stage show. 'Unstoppable fun. A big-hearted, big-night out' The Times
Information
Format: Paperback
Pages: 224 pages
Publisher: Vintage Publishing
Publication Date: 06/06/1991
ISBN: 9780749391256
Free Home Delivery
on all orders
Pick up orders
from local bookshops
Reviews
Showing 1 - 3 of 3 reviews.
Review by Oreillynsf
16/06/2015
One of my favorite books of all time, The Snapper tells the story of an unwanted pregnancy that comes about through what can only be called rape. But in my view the book is really more about the hypocrisy of people who judge the actions and lives of others. It's a story about family and community relationships, and Doyle's gift for razor sharp dialogue and adept portrayal of working class Irish culture makes this both laughter and thought provoking. The second in The Barrytown Trilogy, The Snapper is a marvelous way to get to know writer Roddy Doyle and his wonderfully sensitive human style.
Review by dylanwolf
16/06/2015
The Snapper is one novel of Roddy Doyle's Barrytown Trilogy. "Snapper" is Irish working class slang for a baby and the book tells the story of an unexpected pregnancy. This novel stands and falls by the authenticity of it's dialogue which is so predominant the work almost reads as a playscript. Roddy Doyle's eye for it is unerring. It is a tender, affecting and convincing portrayal, as well as a humorous one, of a family that bonds together to deal with the tribulations of working class life.It was interesting to read this straight after Ulysses, as Roddy Doyle has come out as a big critic of the deification of Joyce. He suggests that Ulysses is overblown and in need of a damn good editor. I'd argue that the Snapper also attempts to achieve the apotheosis of ordinary life but without any of the classical allusions woven in by Joyce (and, thank heaven, using 800 pages less text).
Review by Iira
27/08/2015
Meh. I read this because of a weekend trip to Dublin, but I must say that my expectations were a lot higher. Didn't laugh out loud once. Sure, it was kind of funny at times and laughing at serious matters usually is my cup of tea but I don't know what was missing.